Terrible teasers: new car teaser pics we wish we'd never seen
Teaser pics and videos aim to build excitement ahead of a new car launch but some give very little away. Others, nothing.
When a car company needs to build hype and excitement around a new model launch, the fallback option is to create some kind of teaser. Whether that teaser is a single image, a video or even a cryptic social media post, it's become the customary way to spike public interest, letting the world know that something is coming, without giving too much of it away.
There have been some excellent teasers for new cars that showed innovation, creativity and really upped the level of anticipation with a carefully judged peek at the model in question. There have been some less successful ones too and it's those weird, inexplicable or downright terrible teasers we're interested in here.
Car teasers: the good and the bad
Car manufacturers know very well that the voracious appetites of global automotive media outlets for news to fill websites and magazine pages mean that leading titles, including your very own Auto Express, will report on these new car teasers almost regardless of their content, or lack of it. In that respect, we only have ourselves to blame when teaser pics completely fail to tease the car in question. It's just manufacturers maximising their exposure while keeping their publicity powder dry for a big bang when it's official launch time.
• The craziest car options ever
Teasers have become just another small part of the launch process of a new car. They are usually our first official hint at what that model will look like but the worst offenders contain no such thing. We're often treated to a selection of apparently random images or vague depictions of the car that are so heavily disguised they could be 'teasing' anything from a Ford Fiesta to the Millennium Falcon.
There have been some well judged teasers, which give away just enough to keep us interested. For example, the new Aston Martin DB11 was teased buy a beautifully detailed video of the engine with a juicy V12 roar as the soundtrack. We still didn't know what the car looked like but it was enough to keep interest and expectation high without letting significant details out of the bag.
Unfortunately, bad car teasers are more common than good ones as our collection below reveals. Keep scrolling down to discover some of the worst efforts by leading car brands. We score each one using our exclusive and totally accurate Tease-O-Meter® on a scale of one to five: five being borderline acceptable and one being irredeemably terrible. Plus, we'll also show what the car eventually went on to look like so you can make your own mind up on the quality of the teasers.
Terrible car teaser pics
Renault Kadjar: "What if you...?" videos
Before the Kadjar was officially announced, Renault released a series of short YouTube videos with the #KADJAR tag displayed at the end of them. You see a man going from every day activities like getting in the shower and running for the bus to extreme sports scenarios like kayaking and parkour. Absolutely nothing of the new car is seen or heard at any stage. Renault's plan was obviously to promote the active lifestyle supposedly facilitated by its new crossover. Did it work? We don't think so.
Tease-O-Meter rating: 2 out of 5What we learned about the car: Nothing, other than maybe who Renault would like to see it bought by – people who own kayaks and like showers.What the car actually looks like: A slightly shapelier Nissan Qashqai.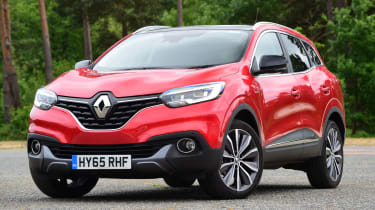 New Land Rover Discovery: Vision Concept teaser video
As we already mentioned at the start, we regularly see teaser images and videos of new cars that are due to be imminently revealed. However, Land Rover went one step further, and in early 2014 released a teaser video for a concept car.
In an effort to generate as much hype as possible for the eagerly awaited new Land Rover Discovery, the video showed glimpses of a car that would never actually make production itself. In fact, all the video showed were brief, dark outlines hinting vaguely at how the production model would look.
Tease-O-Meter rating: 3 out of 5What we learned about the car: It'll look like a bigger Discovery Sport.What the car actually looks like: We still don't know yet, but here's our exclusive image of how it could look…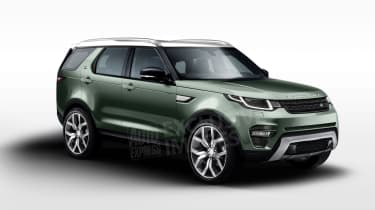 Honda Civic Type R: "R-Rated" video
The new Honda Civic Type R was arguably one of the most heavily hyped cars of the past few years, and excitement hit fever-pitch when Honda announced that the full production model would be revealed at the 2015 Geneva Motor Show. Before that, we had already been treated to a flurry of concept cars and this rather weird teaser video. Describing it as weird would be polite but at least a peek at the concept car at the end meant it was almost worthwhile.
Tease-O-Meter rating: 4 out of 5What we learned about the car: We got to hear the engine for the first time, and catch another quick glimpse of the concept car to keep us excited.What the car actually looks like: One of the most polarising hot hatches on sale today in terms of design.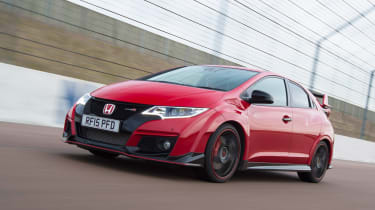 Skoda Vision S/Kodiaq SUV: garage door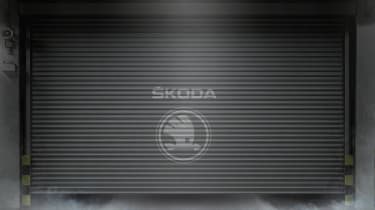 This was our first confirmation that Skoda was making a new large SUV to add to its line-up: garage door with Skoda branding on it viewed through a light fog. When the image was first released, it's fair to say that the Auto Express office breathed a collective sigh of exasperation. At least Skoda will be able to use the same picture again for all their future model launches, thanks to the complete absence of the Kodiaq.
Tease-O-Meter rating: 1 out of 5What we learned about the car: Absolutely nothing.What the car actually looks like: The Vision S concept car is about as close as we can get to the real thing for now.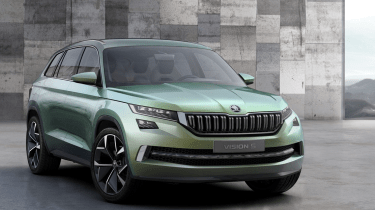 Bugatti Chiron: "Breaking New Dimensions" teaser video
According to Bugatti, in order to tease a new 1,479bhp hypercar, you need skydivers, buzzing numbers, fighter jets, lava and an action movie soundtrack. The video was all about intensity, and that just about comes across but nothing about the car does. The video's only saving grace was that it confirmed the much-rumoured name: Chiron.
Tease-O-Meter rating: 2 out of 5What we learned about the car: Its name. What the car actually looks like: A Veyron on steroids.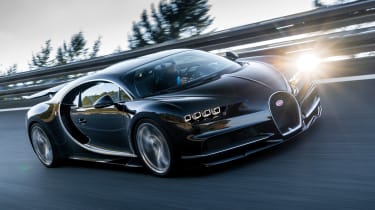 MG GS SUV: headlight teaser image
One of the most widely-used teasers car makers like to wheel out is the good old-fashioned headlight close-up. Brands from all over the world have used this to show off at least one physical detail of its next new model, and MG was no different at the end of April 2016.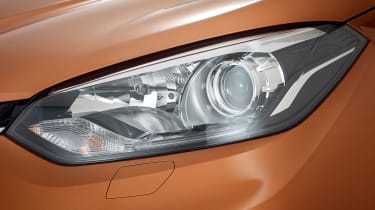 The brand was promoting the new MG GS ahead of its launch at the 2016 London Motor Show, but the problem was that we had already reported on exactly how the car looks when it launched in China at the 2014 Beijing Motor Show. By this stage, the MG GS had also been in a televised ad campaign starring Benedict Cumberbatch in China and MG had even displayed one at its flagship London dealership in 2015. In light of all this, a teaser image probably wasn't strictly necessary.
Tease-O-Meter rating: 1 out of 5What we learned about the car: Nothing we didn't already know.What the car actually looks like: Exactly like the car we had seen two years previously.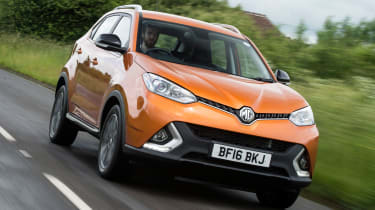 Nissan Juke: yellow side view teaser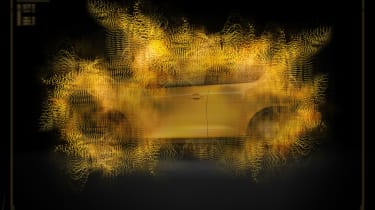 Like the classic headlight shot, side profile images that give a little away about a new car's shape are very common for car brands to use as teasers. When it came to announcing the new Juke in 2014, Nissan employed this kind of teaser to get people excited about it. The two biggest issues with this one were how little was given away by the image and how similar this facelifted Juke eventually looked to the old one.
Tease-O-Meter rating: 2 out of 5What we learned about the car: It was definitely still a Juke.What the car actually looks like: A Juke.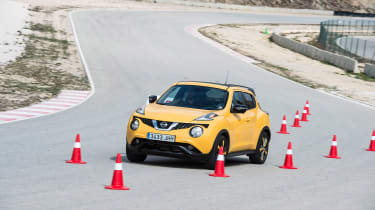 Volvo 40.1/40.2 concept cars: Snapchat teasers
Ahead of its upcoming announcement about the future designs the brand had in mind, Volvo threw a curveball. Instead of releasing teaser images to the general public, the brand took to Snapchat in an attempt to speak directly to the yoof market.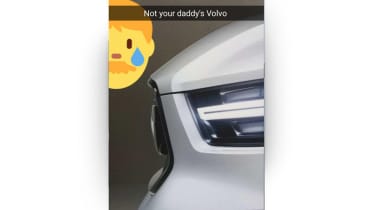 A series of emoji-laden images were sent out, all of which were visible for no more than 10 seconds before being lost in the Snapchat ether. A decent amount of hype was created, so they do go down as some of the most successful car teasers on this list. The old-timers in the Auto Express office really just objected to having to set-up Snapchat accounts to view them.
Tease-O-Meter rating: 5 out of 5What we learned about the car: Little about an actual car, but a lot about Volvo's plans.What the car actually looked like: Arguably the next XC40, but it's still a concept.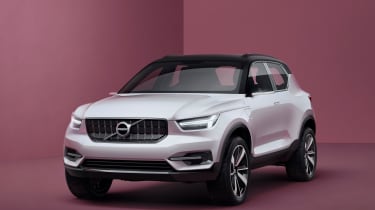 Rolls-Royce Phantom: workshop teaser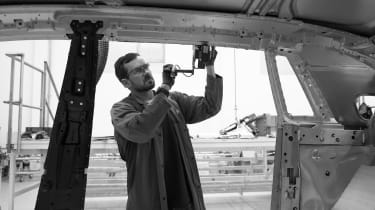 Our first official confirmation that Rolls-Royce was developing its next generation Phantom was this cryptic black and white image of an engineer working on a chassis. We already knew the car was coming after a test mule was spotted and Rolls-Royce marked the end of the current-generation Phantom's production run with its Zenith Collection models. So, not only did this teaser give little away, what it did tell us was already widely known.
Tease-O-Meter rating: 1 out of 5What we learned about the car: Nothing, other than the fact that the car would still be hand-built in part.What the car actually looked like: All we have to go on are the spy shots at the moment.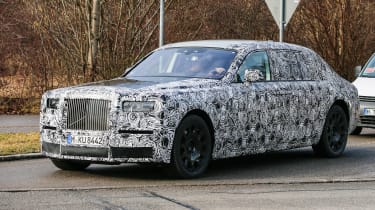 Fiat 500X: "X is coming" US teaser
Fiat made a sensible business decision when it decided to build an SUV version of its retro 500 city car. Not only would the 500X build the 500 brand's appeal, but it would take advantage of the increasingly lucrative crossover market.
Not so sensible was the idea of producing this slightly creepy 500X teaser video for the US market. The film inexplicably features a young woman on a swing in a deserted city street, singing the alphabet as a nursery rhyme. As she slowly sings her way through her ABCs, the 500X appears behind. She disappears just before the letter X arrives, and finishes the song behind the wheel. All of that is fair enough but the tone of the ad - part horror film, part road safety commercial - will send a shiver down your spine.
Tease-O-Meter rating: 2 out of 5What we learned about the car: A little bit about the styling.What the car actually looked like: A bulkier Fiat 500 on stilts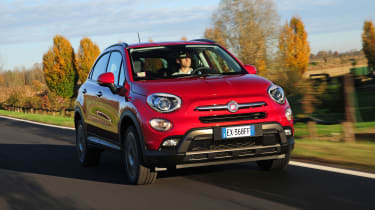 What do you think of our list? Rate them in our ranked list below!