C-MAX v rivals
To find out what Ford's C-MAX is made of, we pitch it against the Citroen C4 Picasso and SEAT Altea XL...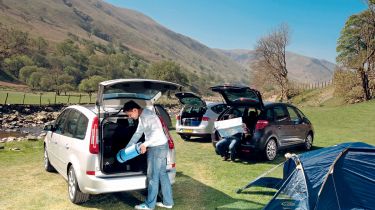 With the forecasters predicting a hot summer, this is the year to take the family camping. Sadly, it's not quite as easy as throwing a tent in the boot and setting off. There's plenty of other essential kit that needs to be packed – and it all requires space.
That's why the practicality of a compact MPV is ideal. And the current crop of cars offers an excellent blend of style, comfort and functionality.
Ford has proved it can build a competitive class contender – its seven-seat S-MAX is excellent. Yet the five-seat C-MAX has always led a lower-profile existence – not least because it arrived so much later than much of the opposition. But that's about to change with the launch of a heavily revised model. Its bold, new look is inspired by the S-MAX, giving it a much sportier appearance than the previous version. So is that enough for it to take on the class leaders? The problem for Ford is that things have moved on rapidly in the past few years.
Look at Citroen's C4 Picasso – not only is it stylish, but it features a host of useful, family friendly features and some clever technology. Then there's the new SEAT Altea XL, which majors on value for money and interior space.
The improved C-MAX faces a stiff challenge, then – so we packed our sleeping bags and headed to Wales to find out which is the best choice.
Verdict
The days of dull, boxy MPVs are over. This trio proves style and practicality aren't mutually exclusive, so opting for a family load-lugger no longer entails having to sacrifice desirability. And it's the least visually appealing of the three that falls first: SEAT's Altea XL. The car is good value, but its ungainly rear looks like an afterthought, and the cabin isn't practical enough.
Choosing between the new C-MAX and the C4 Picasso is much trickier. The Ford is better to drive and has the stronger engine, plus a slick six-speed manual box. The facelift gives it a more distinctive look, while the cabin has been upgraded and includes clever seats. But it's not as family-friendly as the Citroen – and that's what hands victory to the French car. With thoughtful stowage areas, fold-flat seats and a deep boot, it's ideal for family buyers, and more versatile than the Ford. But we would choose the manual version.