Clubman vs Golf GTI
MINI's new Clubman adds practicality to the British-built car's already-stylish formula. We see if it's good enough to beat VW's Golf GTI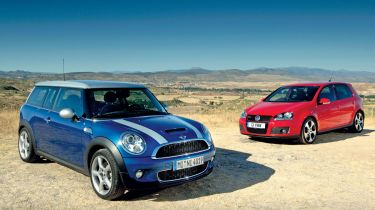 It was possibly one of the worst-kept automotive secrets of recent times, but the estate version of the MINI has finally arrived.
Called the Clubman, it gives the supermini added appeal to buyers who require more space than the standard hatch has to offer. While the three-door MINI is a superb car, it has its limitations – in particular a severe lack of rear passenger and boot space. The Clubman is 240mm longer than the standard model, and as a result offers 80mm more rear legroom.
Prices start at £14,235 for the entry-level Cooper version, while the diesel Cooper D will set you back £15,400. The range-topping model is the Cooper S tested here. It costs £17,210, which puts it up against some serious competition.
However, it's difficult to see what obvious rivals the Clubman has. The firm lists models as diverse as the Alfa Romeo 147, SEAT Altea, Renaultsport Clio and Volvo C30 as opponents, but as always it will be hoping its premium feel will give it an advantage. And that's why we've pitched it against the VW Golf GTI.
As with the MINI, it has a strong, sporty image, yet is easy to live with on a daily basis. Can it hold off the challenge of the versatile new MINI? We took to the roads of Spain in one of the first Clubman models available in Europe to find out.
Verdict
Both rivals offer plenty of thrills, but each has its own individual character. With a bigger boot, better passenger space and a more powerful engine, the VW Golf GTI should really have this test wrapped up – but it's not that simple.
There's no doubt it's the more practical car, but it lacks that 'extra' appeal of the MINI. That's partly down to the VW's DSG gearbox, which, although smooth, saps driver involvement. This doesn't dent the GTI's desirability, though, and it certainly has more sporting pretensions than the Clubman.
But the MINI has the edge. As with the hatch, it's fun to drive, and while not as relaxing as the Golf at speed, it is more entertaining on twisting roads, thanks to a superb driving position, communicative steering and a balanced chassis.
So has the Clubman been worth the wait? Well, the Clubdoor and van-style tailgate are innovative touches, and it's undoubtedly more practical than the hatch. But the boot is still small and the rear seats aren't that spacious. It's not the biggest supermini estate around, and can't even match some hatches for size, but it's hard to resist the MINI Clubman's charms.