Peugeot 308 vs rivals
Promoting a classy new image has been key for Peugeot and Fiat with their new 308 and Bravo. But is this enough to hold off the challenge of the class-leading Honda Civic?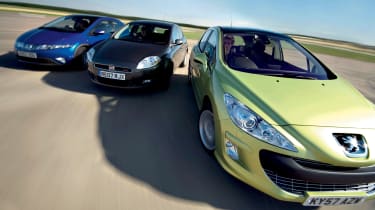 This year marks the 75th anniversary of the launch of the Peugeot 301. It was the French firm's first mid-size car, and proved to be a big success, with 69,000 sold in four years.
But to appreciate exactly how much the market has grown since, it's worth bearing in mind that in excess of three million 307s have found homes since 2001. That's obviously why Peugeot has played it so safe with the 308 – with that many sales at stake, being bold was not an option. Instead, the firm claims to have lifted the quality and image of its family hatchback, making it more comfortable, refined and luxurious, with better trim and road manners, plus lots of standard equipment.
To find out how successful this approach will be, we're pitching the 308 against another car trying to take a significant step up the class ladder, Fiat's Bravo. Unlike Peugeot, the Italians were anxious to distance the latest hatchback from its predecessor, the dismal Stilo. The Bravo features styling that takes its cues from the successful Grande Punto supermini, plus plenty of new features under the skin, including the 1.4-litre turbo engine we test here.
Yet the Bravo isn't nearly as radical as the Honda Civic. In one fell swoop the Japanese firm changed people's perceptions of its dull and dowdy hatchbacks.
What's more, its vision has stood it in good stead – the Civic has been our class leader for nearly two years. So has Peugeot or Fiat done enough to dethrone our champion?
Verdict
Unfortunately for both the Peugeot 308 and Fiat Bravo, neither can better the Honda Civic. Its design and layout won't be to everyone's tastes, but in other areas, the innovative hatch kicks both rivals into touch. It's the most practical by miles, has great residuals, a fine engine and is good to drive.
Peugeot has played it safe with the 308, and by using the old platform hasn't moved the game on in as many areas as we'd hoped. Packaging and practicality are average, the 1.6 VTI is gutless and prices are simply too high, although the interior design and quality are vastly improved. Peugeot also has a mountain to climb in convincing British buyers that its cars are reliable and satisfying to own.
The same could be said of Fiat. However, the Bravo gets off to a good start thanks to its strong engine, good looks and attractive price. It can't quite match the 308's quality, but is better value, which is enough for it to take second.