Mazda CX-7 vs Nissan Murano
Mazda says its all-new CX-7 combines the best bits of an SUV with the driver appeal of a sports car. But is it a winning formula? We find out as it meets Nissan's Murano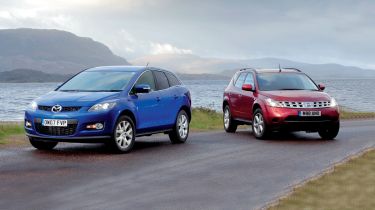 When it comes to doing things different, no one is better than Mazda. Whether it's the MX-5 roadster or RX-8 coupé, the brand proudly sets out to break the mould. But where does the new CX-7 fit with this brief? Well, Mazda says it's a sport utility vehicle that's designed not to go off-road.
Furthermore, it has the raised height of a mud-plugger but a driving experience like a conventional car. The CX-7 isn't the only sporty premium Japanese SUV on sale, though. Nissan's Murano costs over £6,000 more, but is generously equipped and has a V6 engine. We took the pair to the Scottish Highlands to find out which does more justice to the SUV tag.
Verdict
With the CX-7, Mazda maintains its tradition of offering a car that doesn't easily fit into defined class boundaries. Its sleek looks, sharp handling and strong performance are unique in the SUV class.
It's also generously equipped and well built. And although the petrol engine's thirst and high emissions mean it won't be cheap to run, the punchy performance of the turbocharged powerplant and slick-shifting gearbox make the Mazda very car-like to drive.
As there's currently no diesel option, the CX-7 won't be a volume seller. But if you want a sporty and involving alternative to a saloon or hatch that offers decent space, four-wheel-drive grip and a level of exclusivity, it won't disappoint.
And at £23,960, it represents good value – especially when compared with the Murano. The Nissan is certainly generously equipped, but its V6 engine is down on power, the auto gearbox further blunts performance and its chassis is comprehensively outclassed by the Mazda's.
Despite its £30,085 price, the Nissan doesn't look or feel any more upmarket than its rival. As a result, the CX-7 is a clear winner.