Mazda Diesel CX-7 vs Audi Q5
Mazda has finally given its CX-7 SUV a diesel engine in a bid to attract buyers. We see if it measures up to Audi's popular Q5.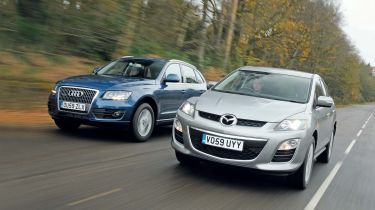 Well equipped, smartly styled and good to drive, the CX-7 has always been an attractive proposition – but for one glaring omission. In an SUV market dominated by diesels, the classy Mazda has been available only with a thirsty 2.3-litre petrol engine. Now the Japanese company has finally fitted an oil-burner, so will the established 2.2-litre unit give the car the success it deserves?
Billed as a 4x4 that's not designed to go off road, the CX-7 aims to blend the looks of an SUV with the driving experience and spirit of the brand's sporty RX-8 and MX-5. It has plenty going for it thanks to its six-speed manual gearbox and punchy 171bhp motor, but since the model first appeared in 2007, the mid-sized SUV segment has changed a lot – which means the Mazda now has plenty of rivals. None is more accomplished on the road than the Audi Q5. It's a premium choice, which offers diesel power, a quality cabin and car-like handling.
So, a diesel engine means the CX-7 is ready for a rebirth, and the single-model range couldn't be simpler. How will it fare against one of the best compact SUVs around?
Verdict
The CX-7's sleek looks, sharp handling and long equipment list ensure it's no longer the forgotten SUV. The 2.2-litre diesel provides strong performance and decent economy, and with its mix of value, style and driver engagement, the Mazda is now a superb package.
However, the Q5's premium cabin gives it a more upmarket feel and the car provides a dynamic masterclass. Not only is it more composed, refined and comfortable than the Mazda, but it's also great to drive. And Audi's proven 2.0-litre TDI engine delivers very similar performance to the larger capacity unit.
The telling factors here, though, are financial ones. With better residuals, lower emissions and superior economy, the Q5 takes the win. The CX-7 is a welcome arrival to the diesel SUV class, but look beyond its bargain price and the Audi is a more appealing choice.
Ranking 1st - Audi Q5 The Q5 has all the qualities we've come to associate with Audi, thanks to a high-end cabin, understated style and class-leading residuals. It's also great to drive, refined and practical, which makes it the best on-road SUV around.
2nd - Mazda CX-7 The CX-7's attractive price and generous equipment levels are real incentives. It's also good to drive, with sharp and engaging handling. Only its weak resale values and firmer ride comfort really count against it here.