Ford Focus v Rivals
Can a mid-life makeover return the Ford Focus to the top of the family hatch class? We find out as it tackles key rivals from Peugeot, Nissan and Honda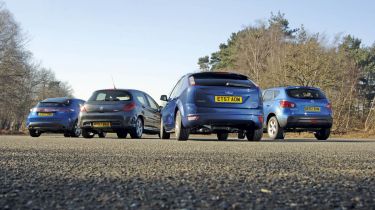 IT'S easy to underestimate the influence the Ford Focus has had on the automotive world.
In pre-Focus days, cheap family hatches came in the form of the dull Escort and the Vauxhall Astra. But in 1998, Ford proved a hatchback could be stylish, practical and great to drive when it launched the first Focus. Now, the second-generation of the UK's best-seller has been totally updated with a restyled body and more upmarket interior.
And as the first cars arrive in showrooms, we grabbed the opportunity to put the latest Focus through its paces on British roads, and find out whether the Mondeo-style makeover goes far enough. Standing in the Ford's way is a tough reception committee.
First up is the Peugeot 308. It's charged with raising the French firm's image, and with its improved interior quality, has the Focus in sight. Next is the Nissan Qashqai. As with the Focus 10 years ago, the Japanese model aims to revolutionise the market. We're big fans of the SUV styling and well built interior, while the company's legendary reliability is a strong selling point.
Last but not least is our current class favourite, the Honda Civic. Although its looks won't be to everyone's taste, there is no denying its talents in many areas.
In this test, all four models battle it out in petrol guise. The question is, are the changes Ford has made enough to put the Focus back on the top step of the podium?
Verdict
THESE are four fine family hatches, each with a strong selling point. And although the 308 finishes last, its grown-up road manners and excellent turbo powerplant make up for shortcomings in other areas. The Peugeot is let down by a weak five-speed gearbox and poor packaging.
Choosing between the remaining three cars isn't easy, but the best all-rounder is the Civic. The Japanese hatchback continues to impress with its unique design, excellent dynamics and practical interior. The Focus comes a very close second. Its sharper lines are a welcome addition, as are the cabin enhancements, and as before, it's a rewarding driver's machine.
Again by the thinnest of margins, third place goes to the Qashqai – by no means a disgrace. Marking it down in this company is the fact that it lacks the interior versatility of the Honda, plus isn't quite as good to drive as the Focus.