Peugeot 308 CC vs VW Eos
Can Peugeot's new 308 CC topple VW's Eos and soar to the top of the coupé-cabrio class? We see if it's the essential drop-top of the summer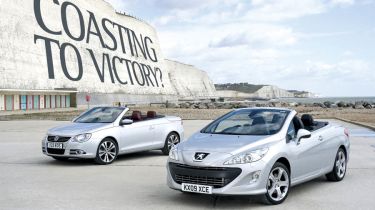 Folding metal roofs have overtaken traditional fabric soft-tops in the popularity stakes – and Peugeot has led the coupé-convertible charge from the front.
The original 206 CC was the first supermini to get the folding hard-top treatment, and it was a smash hit. A larger 307 CC followed, while the 206's replacement, the 207 CC, debuted in 2007. The 308 family hatch arrived last year, but sun lovers have been forced to wait for the convertible version.
Their patience is being rewarded by the arrival of the new 308 CC on 1 June, just in time for the summer. Here we try the flagship GT model in 2.0-litre HDi guise. With luxuries such as leather upholstery and Peugeot's new Airwave neck heating system fitted as standard, it comes bristling with kit.
The 308 CC promises to give our current favourite, the Volkswagen Eos, a run for its money. The German model uses a mixture of Golf and Passat underpinnings, but has a look all of its own. It doesn't come with a clever air scarf system, yet its unique folding top does include a large sliding glass sunroof.
Can the latest 2.0-litre TDI Sport model see off the more expensive Peugeot?
Verdict
Wind-in-the-hair motoring used to be about unlocking a few catches and throwing the roof back – but not any more. These cars showjust how far the game has moved on, with fully automated hard-tops and advanced features to keep you safe and warm.
But which one makes the best family cabrio? The Peugeot 308 CC impresses with its stiff body, high equipment levels and attractive cabin, but the Eos highlights its shortcomings.
Cars in this fashionable sector are all about image, and the gawky Peugeot loses out to the VW in the style stakes. Cramped rear seats also compromise its family car credentials, while the sporty Eos is more fun to drive.
It lacks the generous kit of the 308 CC, but the VW takes the win thanks to its more desirable looks, spacious cabin and entertaining dynamics. Its neat sunroof is an added bonus.