New Golf GTI vs rivals
Is the latest Golf GTI a worthy contender for the best hot hatch crown? We pit it against MINI and Honda rivals to find out.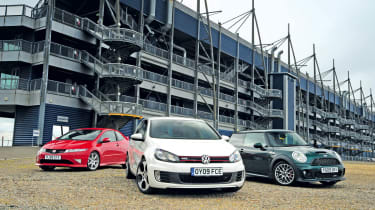 Attach three famous letters to a new Volkswagen Golf, and every hot hatch fan in the world will take notice. Ever since the 1976 GTI redefined the affordable performance car, each new model has been eagerly awaited.
After a few years in the wilderness during the Nineties, the superb MkV firmly re-established the GTI legend.
It was one of the most rewarding and desirable hot hatches money could buy.
As a result, the sense of anticipation surrounding the new MkVI is huge. It impressed us when we put it up against its illustrious ancestor earlier this year – but now it's in UK showrooms, we wanted to know how it compares to its modern counterparts.
To find out, we tested it against our current hot hatch favourite, the MINI JCW. Although the little Brit is much smaller, it shares the same blend of quality, desirability and driving fun as the Golf. And if you want a practical and fast option, the Honda Civic Type R is a real contender. Even in top-spec GT trim, the normally aspirated model is cheaper than its turbocharged rivals here.
The question is: can the all-new Golf GTI live up to its legend and rise to the top of our hot hatch wish list?
Verdict
Hot hatch buyers have never had it so good. The three cars in this test are fine examples of the breed, yet they have very distinct personalities. The Civic Type R, previous Golf GTI and MINI JCW have all won our hot hatch of the year title in the past, so there's real pedigree in this showdown.
First to fall is the Honda. It doesn't have the pace to compete with the MINI, and it lacks the all-round appeal to take on the GTI. It's tremendously practical, well built and represents excellent value for money, but the manic powerplant and hard-edged chassis limit its attraction.
Both the MINI and Golf feature high-quality cabins, punchy turbo engines and subtle yet sporty styling. The JCW is slightly faster and more boisterous, but that isn't enough to see it home here.
As with the car it replaces, the new GTI has a strong blend of talents. It's fast yet refined, comfortable yet engaging, stylish and practical. In fact, the Golf GTI is a hot hatch for every occasion, and the ultimate all-rounder.
By the smallest of margins, the VW takes the win here – so it's time to welcome a new class leader to the hot hatch ranks.