Volkswagen Tiguan Vs Land Rover Freelander Vs Volvo XC60
Volvo's XC60 DRIVe joins a new breed of eco-branded compact SUVs. We test its green credentials as it meets key rivals from Land Rover and VW. Which gets our vote?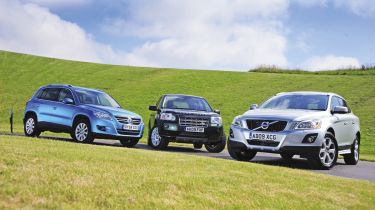 The last decade has been a rollercoaster ride for SUVs. Sales rocketed at the end of the Nineties, but rising fuel costs and increasing environmental concerns have hit registrations in the past year.
However, manufacturers are fighting back with a new crop of 'green' models that promises to win over customers. In the past, the idea of SUVs being branded with eco-themed badges would have seemed ridiculous; now, it's almost essential to boost sales.
First up is Volvo's XC60 DRIVe. The latest addition to the Swedish firm's green range features a five-cylinder 173bhp diesel and promises low CO2 emissions of 159g/km. Impressive stuff, but to achieve this figure it sacrifices four-wheel drive – power is sent to the front tyres only.
That's not a compromise made by Land Rover's Freelander TD4_e, which retains its superb off-road ability. It delivers reduced carbon output and better economy by using stop-start technology.
Even so, on paper, it isn't as clean as our final contender: the lighter, more compact Volkswagen Tiguan 2.0 TDI 140. It doesn't wear any eco-friendly badging, but emits a mere 167g/km.
So, which of our trio is the best choice for off-roader buyers with one eye on the environment?
Verdict
So, which is the eco-friendly king of this trio? Well, the Volvo has incredibly low emissions, so if CO2 output is your only concern it should be the winner. We're looking for the best all-round green SUV in this test, though.
The XC60 has a high-quality cabin, smart styling and punchy performance, while a large boot and class-leading safety make it the sensible choice. But its low emissions come at the expense of all-wheel drive, and the sloppy manual box, vague steering and harsh ride mean it finishes third.
Land Rover's Freelander is a far more versatile SUV that blends genuine mud-plugging ability with strong road manners, and has a great cabin. Yet even with a stop-start system, it emits the most CO2 here. The car remains our class favourite, but it isn't green enough to take victory.
The Tiguan is not only smaller and lighter than its rivals, it's also cleaner than the Land Rover and has more true off-road ability than the Volvo.
To top things off, it recorded the best economy, has the strongest residuals and is the cheapest car to buy. If you're in the market for an eco-friendly SUV, look no further.
* 1ST:VW Tiguan The Tiguan doesn't wear any eco branding, but it averaged impressive fuel economy here, thanks to a lighter kerbweight and more compact dimensions than its opponents. Car-like to drive, and with a surprisingly versatile cabin, it takes the win.
* 2nd:LR Freelander Fitting Stop/Start technology has lowered emissions and improved economy, without sacrificing any of the Land Rover's legendary off-road ability. However, it's pricey in this company and still produces the most CO2 of our test trio.
* 3rd:Volvo XC60 You have to hand it to Volvo: the XC60 DRIVe delivers both the strongest performance and lowest emissions, but at what price? With a lack of four-wheel drive, it falls short in this SUV encounter. Truly green buyers would be just as well served by a conventional estate.