Subaru Impreza Diesel Vs Honda Civic 2.2 CDTI
New boxer diesel sets Subaru's Impreza apart. Is it a better hatch than Honda?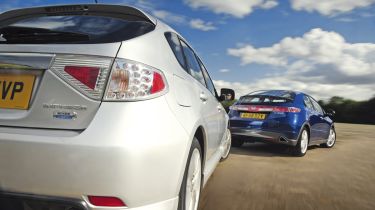 Subaru is going back to basics! It built its name with a string of worthy but workmanlike vehicles, yet success on stages of the World Rally Championship changed its image for good.
The recession has limited the appeal of its trademark turbocharged petrol models, though, and the firm has been forced to rethink.
First, it pulled out of the WRC, and now it has slotted its unique boxer diesel into the latest Impreza.
With a horizontally opposed 2.0-litre oil-burner and four-wheel drive, the model is unique among mainstream family cars.
In RC trim the Impreza costs exactly £20,000, and that puts it in direct competition with the British-built Honda Civic.
Honda was another late arrival to the diesel party, but its superb i-CTDi engine changed the perception of the firm from an alternative brand into a mass-market competitor.
Will the boxer diesel do the same for Subaru – and has the oil-burning Impreza been worth the wait?
Verdict
In such a competitive marketplace, it pays to stand out from the crowd. And the new Impreza diesel does exactly that – on paper, at least.
Its unique boxer engine is refined, smooth and punchy, while four-wheel drive makes it the clear choice for people who need the extra grip. However, while there's decent traction, it comes at the expense of handling.
A low-rent cabin, poor steering feedback and a notchy gearbox further compromise the Subaru.
Although it's well equipped, competitively priced and certainly offers something different, these attributes aren't enough to stop it finishing second here.
The striking Civic has a more classy and practical cabin, along with sharp handling and strong performance.
Build quality is superb, too. So unless you desperately need four-wheel drive, it's the more logical choice.
1st: HONDA Civic
A strong engine, excellent handling and well judged controls give the Honda impressive dynamics.
It's more practical with much stronger residual values, too, while lower emissions mark it out as the cheaper company car choice.
2nd: Subaru impreza
The diesel variant is our pick of the Impreza range – the boxer engine is refined and powerful.
And if you want the security of four-wheel drive to cope with muddy fields and hard winters, you won't go far wrong with the Subaru.