Chevy Spark vs rivals
Tiny city cars are big news – but is the new Chevrolet Spark a contender? We find out as it meets key rivals.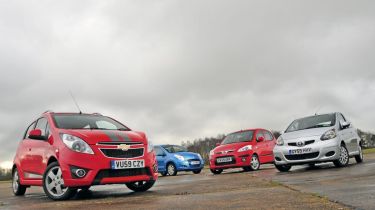 City cars are among the cheapest models around, but that doesn't mean they can afford to feel like budget buys. The latest options in this class have to be capable all-rounders, as well as affordable and fun.
They need to be as easy to drive in town as they are on the open road, plus have spacious interiors and boots. Low running costs are a must, too. Chevrolet thinks its new Spark is the ideal solution. A frugal 1.2-litre petrol engine, five doors and distinctive looks are a good start, while it has a spacious, high-spec cabin.
Rivals should be worried, then – but our favourite model in this sector doesn't scare easily. The Hyundai i10 offers a top-quality interior, lots of kit, a bulletproof warranty and low prices.
Joining it here are the Toyota Aygo and Suzuki Alto – both have three-cylinder engines, yet compensate with lots of character, cheap running costs and cheeky looks. So, which car is big in the city?
The carsToyota Aygo Platinum Price: £9,841 Engine: 1.0-litre 3cyl, 67bhp 0-60mph: 12.9 seconds AE economy: 41.1mpg Claimed CO2: 106g/km
Hyundai i10 Style Price: £8,885 Engine: 1.2-litre 4cyl, 77bhp 0-60mph: 11.6 seconds AE economy: 36.3mpg Claimed CO2: 119g/km
Suzuki Alto SZ4 Price: £8,940 Engine: 1.0-litre 3cyl, 67bhp 0-60mph: 13.0 seconds AE economy: 43.7mpg Claimed CO2: 103g/km
Chevrolet Spark LT Price: £9,845 Engine: 1.2-litre 4cyl, 80bhp 0-60mph: 12.4 seconds AE economy: 36.3mpg Claimed CO2: 119g/km
Verdict
This sector is never easy. With so much of the decision being driven by cost, it really is a case of the head ruling the heart.
However, that makes picking a winner in this test simple. The Hyundai is hugely talented, with broad appeal. It's also cheap to buy and run, and has a brilliant five-year warranty. But deciding the order of the rest is tougher.
Runner-up spot goes to the excellent Aygo. In £9,841 Platinum trim, it's pricey – we'd recommend the cheaper and better-equipped Blue model. Take into account the great residuals, low running costs, strong build and fun driving experience, though, and it's hard to argue against the Toyota.
There are no complaints about the Alto's £8,940 price. It feels built to a budget, but is well equipped and can be run on a shoestring.
That means the new Chevrolet Spark brings up the rear. It has lots of kit, plenty of space and a powerful engine – on paper, it's a winning formula. In reality, the engine is coarse, the design fussy and its high specification comes at too much of a cost. In the talented city car class, it's off the pace.
Overall results 1st - Hyundai i10 Multi-talented i10 is hard to beat. Attractive packaging, a willing engine, capable handling, high specification and excellent value for money set it apart here.
2nd - Toyota Aygo While it isn't the cheapest here, the Toyota is desirable for buyers on a budget. Great residuals and low running costs are highlights, as are fun driving dynamics.
3rd - Suzuki Alto It isn't the most polished car, but the Suzuki is cheap to buy and well equipped. The Alto is an honest, no-frills model that gets the job done with minimal fuss.
4th - Chevrolet Spark In this company, the Spark lacks the polish to be competitive. It provides plenty of space and decent performance – but just doesn't make sense at this price.