Audi A1 vs MINI Cooper
It's the moment of truth, as the new Audi A1 challenges the MINI Cooper in the fight to be crowned the best premium supermini in the world...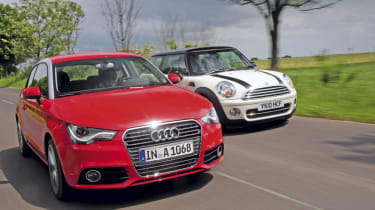 In recent years, Audi has been able to do no wrong – the R8 supercar has captured drivers' imagination, the TT revitalised the coupé and roadster market, the A3 and A4 have been big volume sellers, and the brand has enjoyed multiple victories at the legendary Le Mans 24 Hours race. But with the exception of the short-lived Audi 50 from 1974 (which went on to become the first VW Polo), and the clever A2 seen in 1999, the German firm hasn't had a presence in the small car market.
The success of BMW's MINI clearly caught the eye of the Audi board, though, and the new A1 has it firmly in its sights. Here's a premium supermini that promises to offer as much style as its retro rival with more efficient packaging and superior refinement. There's plenty of customisation options and a range of efficient engines, too. For now, the 1.4 TFSI tested here is the most powerful, and is a perfect sparring partner for the MINI Cooper.
The British-built contender has recently received a small power boost tempered by extra efficiency which promises cleaner, greener running. It's still fun to drive, too, and has a deserving place on many wish lists – but can it fight off the might of Audi?
Verdict
Picking a winner between these two cars here isn't easy – both are very good at what they do and offer different driving experiences. However, despite the huge amount of character on offer, the MINI is just pipped at the post – it's clearly the most fun to drive, despite the performance deficit. But the Cooper's harsh ride limits day-to-day comfort, while the interior space is disappointing and cabin quality has now been eclipsed by the Audi.
The A1 is a better all-rounder. It doesn't excite on the road quite as much as the MINI, but it's quick and is still satisfyingly engaging to drive. It offers more efficient packaging than its rival and its astoundingly well built interior shames cars costing many thousands of pounds more. Add in classy looks and low emissions, and in this instance, it narrowly pips the MINI to the top spot.