BMW 520d vs. rivals
Is BMW's new 520d the king of the dual carriageway? We find out as it meets rivals from Mercedes, Audi and Volvo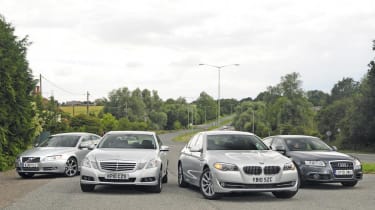 THE battle for supremacy in the outside lane is hotting up.
Dual carriageways are the natural habitat for executive saloons, and BMW is aiming to woo the UK's thousands of company drivers with the introduction of the 5-Series in entry-level diesel form.
The 530d has already beaten its rivals at the top of the range, so does the ultra-efficient 520d repeat its success? Standing in the newcomer's way are three established rivals.
Filling the BMW's mirrors is a model designed with one intention – to rule the executive sector. While Mercedes' latest E-Class hasn't lived up to its billing against more powerful cars, the E220 CDI combines competitive emissions, lively performance and the appeal of the three-pointed star on its bonnet. The Audi A6 is the old timer in this quartet, but that shouldn't count against it. The 2.0 TDI provides punchy performance and promises decent fuel economy to go with its slick styling.
Looming up behind this trio is the only car in our line-up not to hail from Germany. The Volvo S80 D3 saloon features a punchy five-cylinder diesel and the lowest price of all. Will that be enough in the hunt for sales among the salesmen?
Verdict
So, which saloon rules the executive car roost? Well, one of our quartet stands head and shoulders above the rest: the BMW 520d.
With such all-round talent – from its polished dynamics to its smart looks and efficient diesel engine – the model is in another league. Competitive prices and a healthy kit count seal a comfortable win.
The following pack are harder to separate, but second place goes to the Mercedes. We've said before that the E220 CDI is the pick of the line-up, and that remains the case. It edges the Audi A6 into third by the slimmest of margins.
While the Audi is getting on in executive car terms, from a styling and quality viewpoint it's still up with the class leaders. It loses out due to its emissions, but we could understand any exec choosing the A6 ahead of the E-Class.
That leaves the Volvo in fourth – but we said at the outset that it faced an uphill battle. With lots of equipment, tremendous comfort and the most characterful engine of the lot, it's still an enormously capable alternative in this sector.
1. BMW 520d 2. Mercedes E220 CDI 3. Audi A6 2.0 TDI 4. Volvo S80 D3