New Mondeo shoot-out
Ford's new Mondeo aims to appeal to fleets and families alike. We see if it can beat two key rivals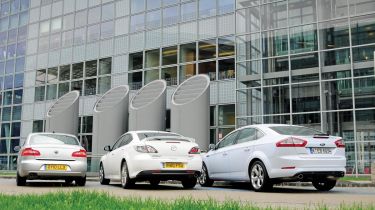 Since 2007, Ford has sold over 120,000 Mondeos in the UK – but the blue oval isn't resting on its laurels. It has combined a new look with extra kit and revised engines for the fleet-car favourite.
The changes to the exterior and interior design are subtle, but under the bonnet there are some more serious improvements. Opt for a diesel and you can now specify the 2.2-litre TDCi, which complies with Euro V emission rules and promises to return 47mpg.
It's also the fastest Mondeo diesel to date, with 197bhp and hot-hatch performance lurking under its unassuming exterior. But it's not all about power, because driving dynamics and racy looks are equally important, especially to company car buyers who want to stand out from the crowd. And of course, the Mondeo isn't the only choice, either...
With a talented chassis, sporty design and a punchy 177bhp 2.2-litre diesel engine, the Mazda 6 2.2D Sport offers an involving drive with frugal economy.
Our final contender is the Skoda Superb – a long-time favourite of ours and winner of this year's Best Family Car trophy at our New Car Awards. It mixes the punch of a 170bhp 2.0-litre TDI engine with an elegant and spacious interior, a sharp but refined driving experience and incredible value for money. So which of these three will top the podium?
Verdict
Buy any one of these cars and you'll be happy, but one stands out as something special. Thanks to its blend of quality, equipment, economy, refinement and amazing value, the Skoda Superb is our winner. Its styling continues to divide opinion, but there can be no arguments about the rest of the car, which makes up for any stylistic shortfall. Choosing between the Ford and Mazda is no easy task. They are similar in character and evenly matched in terms of performance, looks and pace. But the high price of the Mondeo edges it into third place, behind the 6. The Japanese car looks great, and the slightly gruff engine manages to keep the more powerful Ford in its sights. And in the end, the £4,350 cost saving is too much for the new-look Ford to make up.Don't write off the Mondeo flagship, though. It's great to drive, looks better than ever and comes with plenty of kit. But the new powerhouse 2.2-litre Duratorq diesel doesn't add much to the driving experience. Choose the lower powered, and much cheaper, 2.0-litre version and the result could be very different...
Skoda Superb The Superb has chalked up another comprehensive victory. Generous kit levels, a great engine, impressive handling, smooth ride comfort and class-leading value make it hard to ignore. Skoda's customer care is the icing on the cake.
Mazda 6 Sport The revised Mazda 6 is a great family choice. It's fun to drive, great to look at, impressively green and relatively affordable to buy. The interior is dated, though, and it doesn't match its main rivals in the crucial areas of ride comfort or refinement.
Ford Mondeo The best Mondeo yet, but its high price holds it back. Look past this and you'll find a capable hatch that looks good and is punchy, refined, spacious and economical. But less powerful models are more appealing in the diesel range.