Nissan Murano vs Audi Q5
Nissan has finally fitted a diesel engine to its bold Murano – so is it now a premium SUV contender? We see if it can beat Audi's Q5.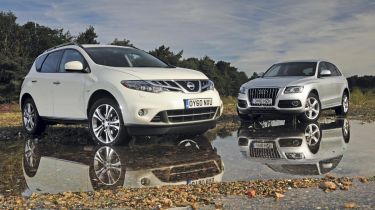 If you want to make a splash in the premium off-roader market, you need diesel power under the bonnet. However, the rakish Nissan Murano has only ever been available with a thirsty petrol engine, which has made it a rare sight on UK roads. 
Now, six years after the original model first landed in showrooms, bosses have finally added a 2.5-litre four-cyinder diesel to the line-up. And that's not all, because the already eye-catching Murano MkII has been treated to a mid-life refresh in an effort to further boost its appeal. 
As before, it comes overflowing with standard kit, which makes its £37,795 price tag look like great value.
The
Audi Q5
sets the standard in this class for premium appeal and car-like driving dynamics. And with the brand's potent 3.0 TDI engine and sporty S line trim, the model will prove a stern test for the Murano. However, its talents come at a higher price. So which of our pair will be celebrating victory while the other reflects on its defeat?
Verdict
Both of our contenders aim to combine head-turning style with rugged SUV appeal. The Murano certainly delivers eye-catching looks, thanks in part to its recent refresh. Adding to the appeal is its spacious and very well equipped cabin. But its 2.5-litre engine is sluggish and thirsty, while the soft driving dynamics will put off keen drivers. And there's no getting away from the fact that the Nissan badge can't match the Audi's kudos – this is reflected by the residual values.The Q5 is beautifully put together, and in sporty S line trim packs plenty of visual punch. It's not as well kitted out as the Nissan or as roomy inside – although the bigger boot makes it a more versatile choice. What really marks the Audi out are its storming engine and sharp driving dynamics – they help it secure a well earned victory.
1. Audi Q5 3.0 TDI S-Line 
There's lots to recommend the handsome Q5, including an impressive engine and transmission combination. Its interior isn't as roomy, but the Audi is cheaper to buy and run, has a desirable image and is more car-like to drive. The ride is harsh, yet customers can specify the softer suspension set-up from the SE at no extra cost.
2. Nissan Murano 2.5 dCi 
Not only is the Nissan spacious and loaded with standard kit, it's also easy to drive and offers superior ride comfort. It trails its rival on build quality, image and driving dynamics, though. And its sluggish four-cylinder diesel can't compete with the Q5's punchy 3.0-litre V6.