Citroen DS3 Racing vs rivals
It's Citroen's rally car for the road – but can the new DS3 racing edge ahead of MINI and Renault rivals?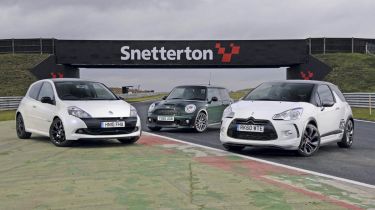 Is Citroen about to gate crash the hot supermini market? Until now, two cars have ruled supreme here, but the French company is aiming to get back on track with its new DS3 Racing. And you can't argue with its credentials.
The newcomer was developed by the team of engineers responsible for powering Sebastien Loeb to a record-breaking seven consecutive World Rally Championship crowns. And it uses the same engine as one of the finest exponents of the hot hatch art: the MINI John Cooper Works. With tuned suspension, in-your-face looks and a limited run of only 200 cars destined for the UK, the DS3 Racing looks set to take the chequered flag in this test. Or does it? Keeping the Citroen honest is another French model with a proven motorsport pedigree.
The Renaultsport Clio 200 is our current class champion, and mixes frantic performance with attractive prices and pin-sharp handling. Add the optional Cup Chassis pack, and it's sure to give the DS3 something to think about.
So will the MINI John Cooper Works. The go-faster version of the legendary baby Brit is a former Auto Express award winner, and delivers a familiar combination of retro style and cutting-edge technology. Which one will win the hot hatch match-up of the year…?
Verdict
Given the way the DS3 Racing looks, and the people behind it, we expected a raw and engaging driving experience. But arrive with that expectation and you'll leave disappointed, because it's actually a comfortable and refined hot hatch. It's also incredibly capable, with searing performance, strong brakes, composed handling and titanic grip. Yet it's simply not as fun to drive as its rivals here.
Factor in its hefty price tag, and the broadly similar talents of its lesser DSport stablemate, and the Citroen misses the target.
That leaves the door open for the Renault to nip past and take the chequered flag. Not only is it affordable and practical, both vital hot hatch qualities, but it delivers the most thrills per mile. It was the universal choice of our testers, thanks to its engaging character.
So what about the MINI? With lively dynamics, it pushes the Citroen into third place. Hot hatches should be about fun as much as sheer pace, and you'll have more of it in the MINI than you will in the DS3. When you throw its low running costs, retro design and prestige image into the mix, the British car is still at the sharp end in this class.