Honda Insight vs Leon Ecomotive
Is hybrid technology the answer to minimising fuel station stops? We put Honda's new Insight to the test.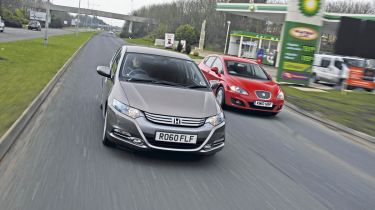 As fuel prices soar, filling 
up your car's tank has never been so painful. Manufacturers know this only too well, and 
showrooms are chock full of 
economical models – but do you opt for a hybrid, or is an eco-
boosting diesel the way to go?
That's the question we ask in 
this test, as Honda has tweaked 
its petrol-electric Insight. It claims a range of 540 miles, and has some welcome trim and design changes inside. Under the skin, revised 
suspension aims to correct the ride and handling flaws of the original.
The 1.3-litre petrol engine, 14bhp electric motor and CVT 
gearbox have been left alone, though, so the Honda promises the same 105g/km CO2 emissions and 64.1mpg fuel economy as before.
These are impressive stats – 
but SEAT's family car alternative, the Leon Ecomotive, employs 
traditional technology to deliver even better figures of 99g/km 
and 74.3mpg respectively. It has 
a 1.6-litre TDI diesel, with a five-speed box and fuel-saving stop-start. Aerodynamic tweaks to the body also help reduce drag.
Both cars offer impressive 
gains at the pumps, but which 
will make more sense when it's finally time to top up the tank?
Verdict
So, is a hi-tech petrol-electric hybrid or tweaked turbodiesel the more convincing choice for eco-minded family buyers? The Honda certainly has plenty of appeal. If you're willing to adjust your
driving style, the clever petrol-electric model makes an interesting alternative to mainstream cars. However, many buyers will be frustrated by the CVT box and firm ride. And above all else, the Insight's fuel returns were disappointing. This seals its fate. On the surface, there's nothing out of the ordinary about the SEAT – and that's an important part of its appeal. It looks, drives and performs like a normal Leon, but with the added bonus of supermini-sized fuel bills. If you want a zero-compromise family car that costs next to nothing to run, the Ecomotive is it.