Group economy challenge
We drive five very different cars all claimed to offer 60-mpg plus from our London base to Newcastle to see whether they really can deliver. Get ready for some surprises!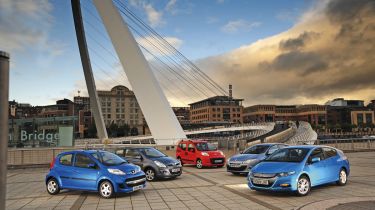 Look at the spec tables in the back of Auto Express, and you will be able to find family hatchbacks, MPVs and city cars that all claim to hit in excess of 60mpg – but can a five-door hatch really match a tiny city car, or even a hi-tech hybrid, in the eco stakes?
That's the question we set out to answer in this special Great North Run of our own.
Newcastle has its fair share of monumental buildings and bridges (great for the dramatic group shot of our 'green' cars) but it's a long way from our London offices, making it the perfect destination for our economy test.
First on the grid was Peugeot's 107. Its small dimensions and low kerbweight are great for fuel consumption, but how would it fare on a motorway trip north?
Next was the Hyundai i20 supermini. In diesel form it has combined economy of 64.2mpg, so it would be one to watch.
For family buyers we couldn't ignore the Renault Mégane 1.5 dCi – at 62.8mpg it even trumps the tiny 107 by a tenth and matches our next contender, Fiat's Qubo.
If you think that buying a boxy MPV rules out good fuel economy, think again as the cut-price Qubo should keep its rivals honest here.
As a wildcard entry to our test we also included our long-term Honda Insight. So far it has failed to live up to its economy claims. Would it fare better here?
Our test was simple: set off from London with full tanks, drive as economically as possible and brim them in Newcastle. We swapped drivers regularly to minimise the impact of individual driving styles and kept to a steady 70mph. The winner would be the car that came closest to matching its official combined economy…
Verdict
You might have expected a tiny city car powered by a three-cylinder petrol engine to struggle with a long motorway trip, but the Peugeot 107 came out on top at the pumps and won this test.
It outperformed all of its rivals here, and even exceeded its own combined fuel claim. The only other cars to manage that feat were the Honda Insight and Hyundai i20.
The hybrid took second place because its return of 65.8mpg represented 102.5 per cent of its combined figure, while the Hyundai hit 102 per cent of its official claim to finish in third.
That left the Renault and Fiat to fight it out for the wooden spoon, and the Qubo only lost out by the narrowest of margins.
Both cars share the same official consumption of 62.8mpg, but the Mégane's return of 58.8mpg was only three tenths better than the boxy Fiat's.
So there you have it, a bluff-fronted MPV can return nearly identical real-world economy to a sleek family hatch – and hybrids can work on longer trips.
The Insight didn't quite do enough to win this test, but it was the surprise package – it's just a shame that it isn't more rewarding to drive. In contrast, the 107 is great fun.