SsangYong Korando vs Hyundai ix35
Is the new Korando a fresh start for SsangYong? We test it against the Hyundai ix35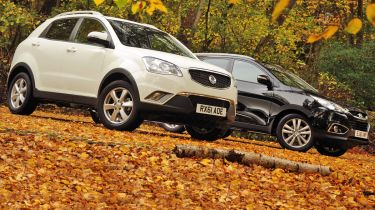 SsangYong has chosen the perfect moment to launch its new Korando compact SUV. As we wave goodbye to autumn and prepare for another harsh winter, the car's 4WD chassis holds obvious appeal, but it will need more than that to gain any traction with British drivers.
SsangYong has never been a big presence in the UK sales charts, but the Korando isn't here to make up the numbers. It's aimed at mainstream models and is the most hi-tech car SsangYong has ever produced.
Buyers have a choice of three trim levels, as well as manual or auto gearboxes. Here we test the top-of-the-range EX auto, with a price tag of £22,995. It has numerous rivals in the small 4x4 sector, but one model stands out as the Korando's biggest competitor. The Hyundai ix35 also hails from Korea and, like the newcomer, offers an attractive five-year warranty.
It comes in two and four-wheel-drive forms and the flagship Premium 4WD auto costs £24,395. That's £1,400 more than the Korando, but Hyundai's proven dealer network and reputation for reliability mean the SsangYong faces a tough homegrown challenge.
Verdict
After four years away from the UK, SsangYong has pulled out all the stops with the Korando. But if bosses were hoping to leapfrog rivals and shoot straight to the top of the class, there's bad news – a lot can happen in five years.
The Korando is clearly the most convincing SsangYong yet, with attractive looks, low prices and huge practicality. It would have been a solid effort in 2006, but compact SUVs have boomed, with new faces driving standards skyward.
The Hyundai comprehensively outshines the new car, and after driving both, most buyers will only care about how much more it costs. When they find out the ix35 has a premium of only £1,400, the writing will be on the wall for the Korando. Impressive towing ability will ensure it causes a stir among the caravan community, but we think the SsangYong needs to be far cheaper to tempt buyers away from their Hyundai dealer.
1. Hyundai ix35
The ix35 doesn't only serve up a winning combination of value for money, practicality and driver appeal; all this is underpinned by one of the market's most appealing ownership experiences. Where else can you get a five-year warranty backed up by top-notch reliability and award-winning customer satisfaction?
2. Ssangyong Korando
Not good enough: that's our verdict on the new Korando. The main problem is that it isn't cheap enough to make up for its flaws, and this ultimately seals its fate. Even so, if you're planning to tow a 2,000kg caravan, the SsangYong could be worth a look.