New Ford Ranger vs rivals
The new Ford Ranger is the latest workhorse pick-up to add luxury to the mix. Is it better than its Toyota and VW rivals?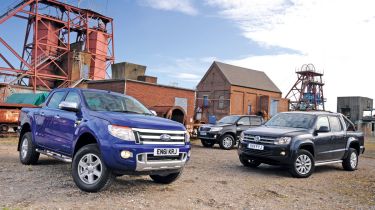 Pick-up trucks used to be no more than industrial-spec commercial vehicles with no-frills interiors and archaic driving dynamics. But they've changed beyond recognition in recent years. Spartan cabins and breathless engines are a thing of the past.
The new
Ford Ranger
is the latest arrival and we've put the double-cab Limited model through its paces. The Ranger is designed to bring elements of SUV style, comfort and refinement to the pick-up class. However, it has to see off the challenge of a daunting pair of rivals in the battle for success.
First up comes another fresh face, in the boxy shape of the revised
Toyota Hilux
. This automotive legend is a giant of the pick-up class thanks to its hard-earned reputation as a tough workhorse.
The third vehicle in our line-up is the current class leader from Volkswagen. The Amarok made an impressive road test debut last year and has set new standards for interior quality in the class. So will it still be the pick-up to beat after this bruising encounter?
Verdict
This test makes one thing clear: if you want a pick-up as an alternative to a large SUV, you're going to have to compromise. While the latest pick-ups are much better than their predecessors, they still don't have the refinement of a proper 4x4. So where does that leave our three trucks?
The Toyota Hilux is the first to fall. Although it's attractively priced and has a strong diesel engine, it lacks its rivals' modern cabins. Plus, even if all you want is a workhorse, it has the smallest load bed and payload here.
Second place goes to the Ford. It's well equipped in Limited trim and its cabin has plenty in common with a modern SUV. It also has the biggest load bed, but if it's going to spend most of its time unladen, the ride is just too hard – even by pick-up standards – and refinement isn't good enough.
The Amarok isn't the cheapest choice, but if you want the most able substitute for a regular off-roader, it ticks more boxes than its rivals.
WinnerVolkswagen Amarok ★★★★ The Amarok's cabin quality stands out here, but there's more to the VW than a car-like interior. A combination of smart looks, reasonable fuel economy and decent road manners makes it the best all-rounder. And its load area is still wide enough to accommodate a forklift pallet.
2nd Ford Ranger ★★★ A solid debut for the latest Ranger. It looks the part and has a comprehensive trim range, so there's a model for everyone. However, mechanical refinement is only average and it's less comfortable when used as a family car than the Amarok.
3rd Toyota Hilux ★★★ Still a giant of the pick-up sector; just probably not at its best as a luxurious double-cab. If you want a utilitarian workhorse, the Hilux won't disappoint, but the Ford and Volkswagen do more effective impressions of a family SUV.