Audi S4 Avant vs Volvo V60 T6
Can the latest practical performance car from Audi, the S4 Avant, outmuscle the turbocharged Volvo V60?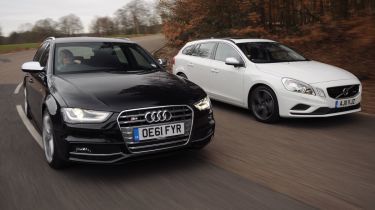 If you thought a growing family meant no more driving fun, think again. High-performance estate cars combine sports car pace and thrills with room for the kids and all the luggage you need to carry.
The latest addition to the ranks is the revised Audi S4. Based on the brand's recently facelifted A4, it has a 328bhp supercharged V6 engine, a grippy quattro all-wheel-drive system and spacious 490-litre boot. What's more, a whole host of mechanical tweaks – including the adoption of electric power-steering – has helped make the S4 cleaner and more efficient.
As a result, it will blast from 0-60mph in 4.9 seconds and go on to a 155mph top speed. Yet emissions are down to 197g/km of CO2 and it promises to return nearly 35mpg at the pumps.
However, the Audi faces a tough test here in the shape of the Volvo V60 T6. The latest in a long line of fiery estates from the company, the stylish V60 features a turbocharged straight-six engine and four-wheel drive.
Our test car also benefits from an upgrade by official Volvo tuner Polestar, which increases the engine's power to an Audi-rivalling 324bhp. Will this be enough for the V60 to put the boot into the S4? Or can the Audi take the spoils?
Verdict
Our contenders prove that it's possible to mix high-performance thrills with family-friendly practicality. But which car finishes this bruising encounter on the top step of the podium?
The Volvo looks and sounds the part, thanks to sleek styling and a growling six-cylinder engine. What's more, it delivers scorching real-world pace and has one of the most comfortable cabins in the business. Yet it's let down by a small boot, cramped rear seats and high running costs. While it's cheaper to buy than the Audi, it costs more to tax and loses its value quicker. The V60 is also hobbled by wallowy and imprecise handling – it's fast, but you're not encouraged to access its full performance potential.
That's not the case with the Audi, which feels every bit as quick, but is composed and agile through corners. More importantly, it features a larger and classier interior, plus its boot is bigger and better shaped. Adding to its appeal are lower running costs, stronger residuals and generous standard kit.
However, the S4 is not without its faults. It's expensive to buy, plus its new electric power-steering lacks feel. But these issues aren't enough to stop it scoring a convincing victory over the Volvo. If you want sports car performance but space for a family, then the Audi takes some beating.
WinnerAudi S4 Avant ★★★★
The latest changes have helped carry the Audi S4 to a dominant victory here. It's a genuine sports car for all occasions, thanks to its combination of blistering pace, agile handling and interior space. And while it's not as cheap to buy, the S4 is beautifully built and is surprisingly cost-effective to run. If only the new electric steering provided a little more feedback.
2nd Volvo V60 T6 ★★★
Volvo hasn't lost the knack of producing fast estates. The V60's characterful six-cylinder engine delivers blistering pace, while its 4WD offers confidence-inspiring grip. But it's held back by the cramped cabin and less assured driving dynamics. Plus, while it's cheaper to buy, it will cost more to run than the S4.