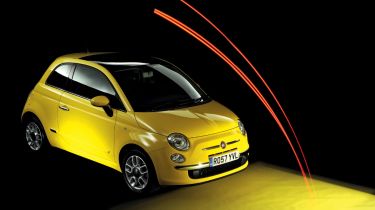 BEST CITY CAR: Fiat 500
Why it won: Reinventing a legend is never easy – but that is exactly what Fiat has achieved with its new 500.
In a class that's now bigger than ever, the Italian star has proved itself a real winner. We define a city car as any model that has the compact dimensions and tempting price to make it perfect for urban living. Cars that have been designed with tight high street parking spaces and city centres in mind were in with a shout, so the 500 had to beat everything from Smart's ForTwo to Renault's Twingo.
So what makes the Fiat so special? In a similar vein to the MINI, the 500 manages to capture the spirit of a legend without coming across as forced or tacky. Its low prices go hand in hand with the great looking exterior and interior styling to create an irresistible package.
And the worst news for rivals is that this is only the beginning for the 500. There are technical innovations such as an ultra-efficient two-cylinder engine waiting in the wings, while the Abarth sporting brand will bring hot hatch performance to the Fiat at the end of the year. Looking further ahead, the Italian firm will also launch an estate version to rival the MINI Clubman as well as a 500 convertible.
By keeping the style and spirit of the original, but adding refinement, versatility and luxury, Fiat has built a car that we will be talking about for decades to come… just like its predecessor!
Commended: Suzuki Splash and Hyundai i10
Shortlist: Fiat 500Fiat PandaSuzuki SplashVauxhall Agila Mitsubishi iSmart ForTwoToyota AygoCitroen C1Peugeot 107Renault Twingo Hyundai i10Kia Picanto