MiTo GTA blasts off
Sizzling flagship gets a high-power turbo. It also features bodykit and stiffer suspension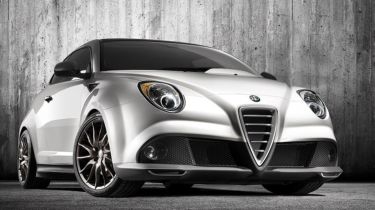 The wraps are off themightiest MiTo yet! This is the first picture of Alfa Romeo's new MiToGTA – a hot hatch flagship which is gunning for MINI's Cooper JCW.
It will be on display at the Geneva Motor Showin the form of this thinly disguised concept, which boasts all thestyling cues you would expect on a small Italian high-performance car.These include a low front splitter, complete with mesh air intakes,plastic side skirts and what looks like a power bulge on the bonnet.The latter is hardly surprising, given what's lurking beneath it.
Power comes from an all-new 1,750cc four-cylinder turbo engine. Its capacity harks back to the famous 1750 Coupéof the late Sixties. However, with 230bhp, the new GTA's performancewill be bang up-to-date. It promises a 0-60mph time of around sixseconds and a top speed of 150mph – that's enough to embarrass the JCW.
Addstiffened suspension and 18-inch alloys wearing sticky wide tyres, andthe GTA looks set to be a real force to be reckoned with. Inside,there are likely to be figure-hugging sports seats and a number of GTAbadges. Sales are expected to start later in the year, with a price tagfrom around £18,000.