Fiat 500 Cabrio
Fiat reveals first ever pictures of new 500C ahead of its Geneva debut next month.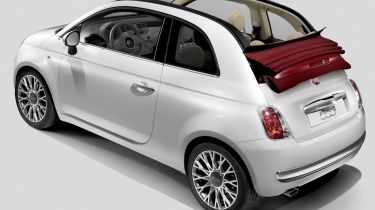 The sky's the limit for Fiat! The first official pictures of the 500 convertible – badged the 500C – have landed ahead of its Geneva debut in March. And in true Fiat style the quirky cabriolet has a style all of its own.
Paying homage to the 1957 original,the 500C uses a targa-style retractable soft-top, which has a number ofadvantages over a more conventional folding roof. The dimensions areidentical to the fixed-head version,saving on manufacturing costs – and ensuring it retains the samedart-like handling. The engines range is untouched, too – there's the1.3-litre Multijet diesel, or a choice of two petrol units with either68bhp or 99bhp.
To maximise fuel efficiencyevery 500C features Fiat's 'Start&Stop' technology, cutting theengine as soon as you're in neutral and release the clutch – but firesback up the moment you select a gear. More details will follow closerto the car's UK launch this summer.