Wraps come off E-Class Coupé
Merc's CLK replacement has arrived, and we have first pictures of the new stunner.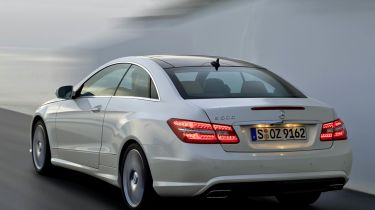 Prepare to want one! Mercedes has turned on the style with its new E-Class Coupé – the CLK replacement– and these are the first official pictures of the German stunner that has the Audi A5 firmly in its sights.
Describedby Mercedes as a sporty interpretation of the E-Class saloon, it sharesan almost identical front end with its bigger brother. The sharperdouble headlights, sculpted bumper and grille are all borrowed, withthe only difference being the three-point-star mounted in the middle ofthe grille, and not on top of the bonnet.
From the frontwheels back, though, the Coupé has a shape of its own, with apillarless glass area and flowing roofline. As with the saloon, therear wheelarch is very detailed, with a crease framing the wheel andfinishing at the LED tail-lights.
A raft of new gadgets arefitted, including Attention Assist, which monitors the drowsiness ofthe driver, adaptive suspension and auto-levelling headlights. Fromlaunch, three engines will be offered – a pair of four-cylinder units,one diesel and one petrol, and the flagship E500, which delivers383bhp. This model is seen here wearing the AMG Sports Pack.
Theeco-friendly E350 CDI BlueEFFICIENCY has to be the pick of the bunch,though. It churns out 228bhp and 540Nm, while returning 41.5mpg andemitting 139g/km of CO2.
The car goes on sale in the UK inJune, with a convertible following six months later. It debuts at theGeneva Motor Show in March.