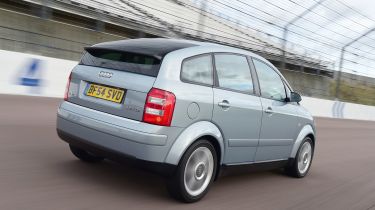 Years: 1999-2005Price new: £14,650Engine: 1.4 3cyl, 74bhp
Few cars were as ahead of their time as the Audi A2. Designed to showcase the brand's expertise in aluminium engineering, the innovative A2 packed A6 executive saloon-rivalling interior space into a supermini-sized package. Launched in 1999, the distinctive Audi immediately caused a stir with its style and efficiency.
There were a couple of petrol options, but the 1.4-litre TDI was the pick of the bunch. The three-cylinder engine is rattly at idle, but smooths out at speed, while the A2's low kerbweight makes for sprightly performance. It's hardly fun to drive, but the clever engineering adds real desirability.
Sadly, buyers weren't ready for the costly A2, and production ceased in 2005. Today, the low running costs and roomy interior would be a surefire hit.
Click the links below for the other 1,400cc cars that have made our list.