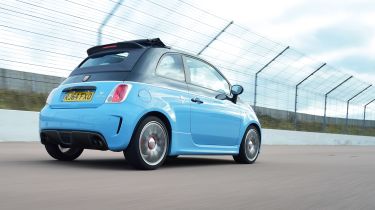 Years: 2012 to datePrice new: £21,890Engine: 1.4-litre 4cyl, 178bhp
You realise the Abarth 595C Competizione is a serious small car when you lower yourself into the rock-hard, figure-hugging Sabelt bucket seat. Turn the key and the four-cylinder 1.4-litre turbo gurgles into life, emitting an angry burble from the high-flow 'Monza' exhaust.
In the Competizione model, power is up to a healthy 178bhp. Push the throttle and not a great deal happens until 2,500rpm, when the turbo really starts pumping. The light gearshift isn't a match for the firm brake pedal or iron-fisted damping, but push the clutch to snatch a new gear and that loud exhaust gives a snarling pop and crackle.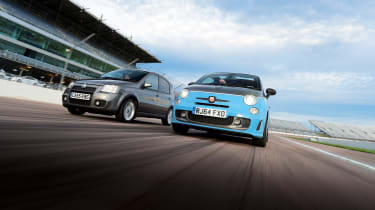 Despite the precise steering, you still have to muscle the car into corners and make the most of the grip on offer. And in the convertible C version, there's another element to like. The roll-back roof gives even more access to that exhaust noise, but keeping the roof rails in place means the chassis retains its stiffness. Still, with a tiny rear bench and boot opening, plus the firm ride and hard seats, don't expect the 595C to win any practicality awards.
Click the links below for the other 1,400cc cars that have made our list.