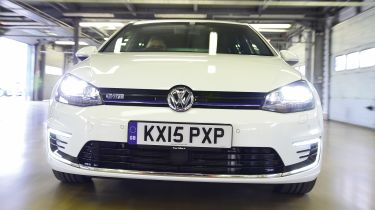 Year: 2015Price new: £28,775 (inc Govt plug-in grant)Engine: 1.4-litre 4cyl/electric motor, 201bhp
Most 1,400cc contenders are cost effective entry-level models – except for the cutting-edge flagship that is the VW Golf GTE. Beneath its conventional hatchback bodywork beats a hi-tech plug-in hybrid heart that aims to effortlessly combine performance and penny-pinching running costs.
By mixing a 1.4-litre turbo petrol engine and a powerful electric motor, VW has created a car that delivers 201bhp, yet promises 166mpg. Plug the Golf into the mains and you can travel around 30 miles in zero emissions electric mode.
Externally, the GTE is distinguished by its distinctive blue trim inserts, while inside the car is heavily influenced by the racy GTI hot hatch – there's the same flat-bottomed steering wheel and a similar tartan finish for the seats. It's also every bit as solid and has the same family friendly practicality.
Squeeze the throttle and the Golf glides away silently on battery power alone. Hit the GTE button and the petrol engine joins in, helping it cover 0-62mph in 7.6 seconds. The weight of the hybrid system means the GTE isn't as sharp to drive as its hot hatch brother, but it's composed, grippy and very refined. And what it loses in outright thrills, it makes up for with small bills.
Click the links below for the other 1,400cc cars that have made our list.