Reliant Scimitar SST
Reliant may have been most famous for its three-wheelers, but it has also dabbled in sports cars.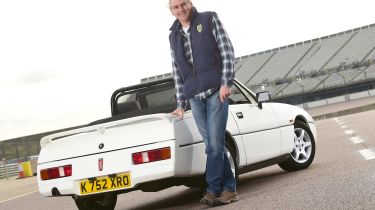 Years: 1990-1992 
Price new: From £1,000 
Engine: 1.4-litre 4cyl, 75bhp
Reliant may have been most famous for its three-wheelers, but it has also dabbled in sports cars. The original Scimitar of the sixties and seventies was a V6-powered machine that was famously popular with Princess Anne. Yet Reliant revived the name in the eighties with the Scimitar SS1.
It first arrived in 1984, with a spaceframe chassis, full independent suspension and a wedge-shaped roadster body. With styling penned by famed Italian designer Giovanni Michelotti – in fact it was his last design – the distinctive lines and Porsche 928-style flip-up headlamps gave it a sharp look.
Engines included Ford's then-current CVH unit, and while the first cars had 1.3-litre power, later versions came with a 1.4 CVH, producing a modest 75bhp. The SS1 was an intriguing little sports car, and in some ways it followed the same template made successful later by the Mazda MX-5. Reliant's limited resources meant it only sold in modest numbers, however.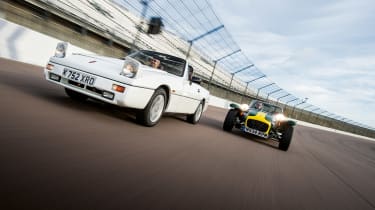 Still Reliant persevered with its roadster, and introduced the second-generation SST model in 1990. The update had bodywork enhanced by designer William Towns – hence the T in the name – and build quality was improved, too. The 1.4 CVH engine was carried over, although it now featured a five-speed gearbox.
The car we tested is owned by Scimitar fan Steven Feay, and is one of only five 1.4 SSTs in the UK. Once inside, the first thing that's clear is that the SST is more spacious than expected, with plenty of shoulder and legroom for two. You're surrounded by some familiar switchgear and controls, mainly sourced from Austin Rovers of the era, while Steven has fitted his own custom wind deflector to go with the aftermarket roll hoop.
The SST's unassisted steering delivers good feedback once you're up to speed, and the car's light construction means it feels agile in corners. You also get the sense that the SST's chassis could easily cope with more than the 75bhp the 1.4 CVH offers. This feeling is backed up by the fact that Reliant also sold the SST with a Nissan-sourced 1.8-litre turbo that offered a more potent 135bhp through the rear wheels.
Click the links below for the other 1,400cc cars that have made our list.