Fiat Panda 100HP
The Fiat Group has used 1.4 power several times in its history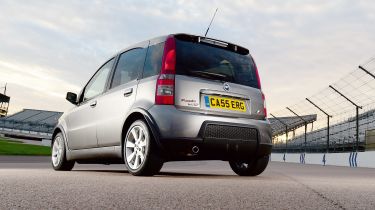 Years: 2006-2010Price new: £9,995Engine: 1.4-litre 4cyl, 99bhp
The Fiat Group has used 1.4 power several times in its history. While current cars such as the Alfa Romeo MiTo and Abarth 595 use the turbocharged 1.4 MultiAir engine, the Panda 100HP featured naturally aspirated power.
The 1.4-litre 16v makes 100PS – hence the car's name – and the 100HP got lowered suspension and some chunky styling add-ons to mark it out from the rest of the range. It was the only second-generation Panda to come with a six-speed manual gearbox, and the closely packed ratios were designed to keep the engine on the boil. That's because peak power is made at a heady 5,800rpm, while peak torque comes in at 4,250rpm, and the engine revs all the way to 6,500rpm.
This rev-happy engine complements the super-stiff chassis. The ride is firm even on smooth roads, but that means the 100HP is hugely entertaining in corners – although the numb steering does peg back the 100HP's performance car credentials.
Click the links below for the other 1,400cc cars that have made our list.