'An autonomous future needs collaboration like we've never seen before'
As Ford boss Jim Hackett delivers his vision for the future at CES, Steve Fowler looks at what it will take to achieve it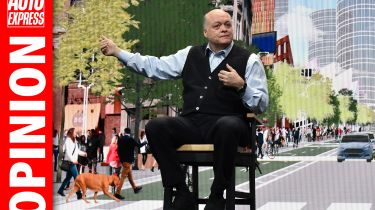 Ford CEO Jim Hackett took centre stage at the Consumer Electronics Show at Las Vegas last week to give his vision for an autonomous future in the world's increasingly densely populated cities.
The tech showcase is becoming more and more important to car companies and their growing number of hi-tech suppliers, and Hackett used his keynote address to introduce us to Ford's vision of a Living Street. "We can redesign transportation in our cities," Hackett told us.
Ford is clearly pinning a lot on an autonomous future and Hackett proclaimed that his company wants to be a leader. Working with companies like Lyft on autonomous taxis and firms like Postmates and Domino's Pizza on driverless deliveries is a good start, but Ford is not alone.
Rival car companies at CES were also talking about their autonomous plans and boasting of the Silicon Valley companies that they're working with – VW and Hyundai both announced that they're working with start-up Aurora on self-driving tech.
For a truly autonomous future, as Ford pointed out, we'll have to have cars talking to each other and talking to their surroundings, too. But will they all share a common language? Jim Hackett promised that Ford will be developing its technology on an open-source platform that others can share. "Ford has a history of democratising technology," he said.
But can we believe other car makers will think the same way? And what about cities? Will London's electronic infrastructure speak the same digital language as Berlin, Los Angeles and Shanghai? For the safer, cleaner, more convenient autonomous future we're so excited about, we've got to see levels of collaboration across the world that we've never seen before. For the sake of progress, let's hope that happens.
What's your take on Ford's vision for an autonomous future? Let us know in the comments!