What is Ford SYNC 4?
Some of the newest Ford models are fitted with SYNC 4 infotainment, but what does that mean?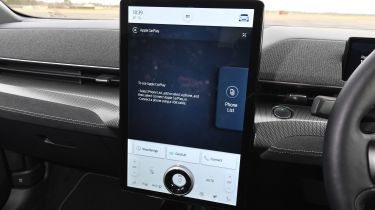 Ford first introduced its SYNC infotainment system in 2007, with the earliest generation allowing drivers to connect their mobile phone to the car via Bluetooth. This permitted basic functions like making calls, sat-nav and even sending text messages.
SYNC 4 is the very latest iteration, introduced in 2021 and launched in the Ford Mustang Mach-E, which features a Tesla-rivalling 15.5-inch portrait touchscreen. In October 2021 it was also added to the latest version of the Ford Focus.
In the UK, almost all Ford models still come with SYNC 3, including the Ford Fiesta, Ford Puma, Ford Kuga and even the Ford Ranger pick-up, all of which use a smaller screen than the Mustang Mach-E. 
It's only a matter of time until SYNC 4 is rolled out across Ford's models, however, especially as the software can be adapted to fit screen sizes from as small as eight inches, so not every model needs a giant display like the Mustang Mach-E to benefit. In the Ford Focus, SYNC 4 is paired with a 13.2-inch display. 
How does Ford SYNC 4 work?
Ford describes SYNC 4 as a 'cloud-connected in-car communication and entertainment system', which hints at the fact it relies more heavily on a mobile Internet connection than older SYNC iterations. Like apps on your smartphone, Ford's software connects to the cloud to provide real-time updates and stream media.
In practice, this means the sat-nav will adjust your route for traffic, and can even provide information about where to charge your EV and what the weather is like. It also means voice commands are more natural and nuanced, so you can ask it to play a song or album from your streaming service, for example. SYNC 4 can also learn your most popular routes, so it's likely to suggest the way home if you hop in the car after work, or the trip to the golf course on a Saturday morning.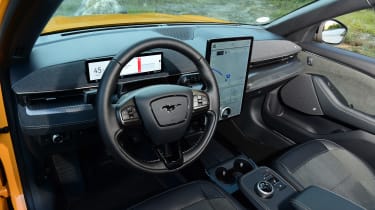 SYNC 4 is also compatible with wireless Android Auto and Apple CarPlay, so you should have no problem connecting your smartphone and using its apps via the dashboard display. In cars with a larger display, a split-screen function means two features can be displayed side-by-side.
Unlike the Tesla Model Y, the SYNC 4 setup in the Mustang Mach-E retains a separate display behind the steering wheel for important information like your speed and driving range, but overall there are far less physical buttons than in older Ford models. Instead, most controls have been incorporated into the car's software, which can receive over-the-air updates to ensure it can be kept up-to-date.  
Can Ford SYNC 3 be updated to SYNC 4?
No, unfortunately not. Because of all its extra features, SYNC 4 isn't just a software upgrade, it also requires powerful computer processors to run properly and a 4G LTE internet connection. Because of these significant hardware changes - SYNC4 is rumoured to deliver around twice the processing power of SYNC 3 - only Ford's newest models designed specifically for SYNC 4 are equipped to run it.