Why should you change your tyres with Ford Motorcraft? (sponsored)
Looking for quality tyres, supplied with the best advice? Then make Ford Motorcraft 4+ your first port of call
Choosing a new set of tyres can be a minefield, but for Ford owners help is at hand. That's because Ford Motorcraft 4+ has been specially designed to ensure every Ford car over four years old is cared for – and that includes tyres.
Ford Motorcraft 4+ has tyre specialists at every one of its 550 sites throughout the length and breadth of the UK. That means you're never far from someone who really knows their stuff.
Those specialists will give you the right advice to make the right choice for you and your car. Your dealer will be able to offer premium tyres from Bridgestone, Continental, Dunlop, Goodyear, Hankook, Michelin or Pirelli. They'll also have more affordable mid-range and quality budget tyres too.
The expert advisers at your local Ford Motorcraft 4+ centre will also be able to explain tyre labelling – the stickers applied to every new tyre, making it easy to understand exactly what you're buying.
The labels provide information on each tyre's ability to grip a wet road and how much noise they generate. They also show how some tyres can actually help to reduce your fuel bills. So by choosing the right tyre, you can stay safe and save money!
But there's more. Ford Motorcraft 4+ benchmarks its prices against a range of national tyre retailers, ensuring its prices are always competitive.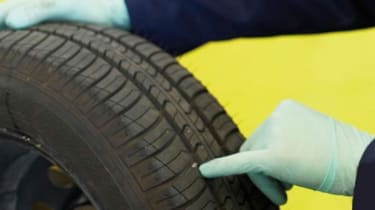 And those prices won't include any nasty hidden extras either. Ford Motorcraft 4+ includes VAT, standard valves, wheel balancing and fitting, along with the safe disposal of your old tyres within the stated price.
You'll even benefit from FORD eCHECK, a free 30-point visual check, ensuring your car leaves Ford Motorcraft 4+ in a safe and secure condition. Not many tyre retailers offer that.
And that's not all. Thanks to a local price match guarantee, if you find a like-for-like job cheaper within a five-mile radius, Ford Motorcraft 4+ will refund the difference.
Even booking your car in is simple. You can call your local Ford Motorcraft 4+ service centre, or you can book online. The whole process takes minutes, meaning the only thing left to do is jump in your car to your local dealer.
So whether you've got a Ford Ka, a Ford Transit or anything in between, let Ford Motorcraft 4+ help you buy the right tyres.
What else does Ford Motorcraft 4+ offer?
Ford Motorcraft 4+ is the only name you need to remember if you've got a Ford car aged four years or more.
Its highly trained technicians are experts in all aspects of servicing and maintenance of Ford cars, and with more than 550 Ford Motorcraft 4+ outlets across the UK, one is never far away.
Whether you need a replacement headlight bulb or a new timing belt, Ford Motorcraft can handle all of your Ford's routine maintenance. Only Ford-approved parts will be used, and thanks to a transparent pricing policy, you'll always know exactly how much you'll be paying.
Ford Motorcraft 4+ can also look after you car's servicing requirements, after which you'll enjoy complimentary UK and European roadside assistance – and your car will also receive a free wash and vac. Need an MoT test? No problem as Ford Motorcraft 4+ can take care of that too.
More on Ford Motorcraft