UK car sales booming
New car sales in the UK were up 5.3 per cent in 2012, and the Ford Fiesta was the best selling car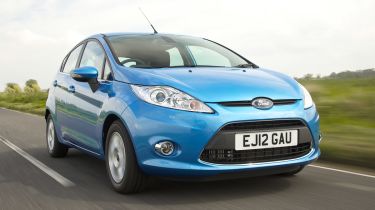 New car sales in the UK reached a four-year high in 2012. Registrations rose 5.3 per cent year-on-year to 2.04 million models, according to the Society of Motor Manufacturers and Traders (SMMT). That's the highest level since the recession began in 2008.
The Ford Fiesta has once again taken the title of Britain's best selling car, with sales of 109,265. The Vauxhall Corsa took the runner-up spot, with sales of 89,434, and the Ford Focus wasn't far behind in third position, with 83,115 models finding homes.
A number of carmakers are celebrating record sales totals, including Jaguar Land Rover, which sold 68,586 cars in 2012, up 19.17 percent on 2011; Kia, which sold 66,629 cars in 2012, 13,014 more cars than it sold in 2011 and MG, which experienced 117 per cent sales growth in 2012, although this is on tiny sales volumes of 782 cars in 2012, up from 360 in 2011.
Reflecting recent problems, both Saab and Lotus experienced the largest sales falls, with Saab selling 232 cars in 2012, down 94 per cent from the 4,138 it sold in 2011, and Lotus selling 137 cars in 2012, down the 329 it sold in 2011.
2012 also saw the fastest growth in registrations since 2001. But despite the impressive figures, the new car market was still an enormous 14.9 per cent down on pre-recession levels in 2007 when sales reached 2.4 million units.
SMMT chief executive Paul Everitt said: "Boosted by strong consumer demand, the market grew at its fastest rate for 11 years with innovative, fuel-efficient cars keeping buyers in showrooms. Looking ahead to 2013, we anticipate the market will hold firm."
Top 10 best selling models in 2012: