Honda Civic vs Volkswagen Golf vs Renault Megane
An all-new Honda Civic and a revised VW Golf have hit UK roads - can they take on and beat the latest Megane?
Fashions come and go, but the long-lived compact family hatchback class remains as popular as ever. If you want proof, then look no further than the latest Honda Civic, which is now in its 10th generation.
Yet while the Honda has history on its side, the brand's bosses are firmly focused on the future with this all-new machine, which abandons its predecessor's quirky character in favour of a more upmarket approach. There's also a new range of powerful and efficient engines, some cutting-edge safety kit and the promise of class-leading refinement.
However, it's not the only hatchback with heritage. The VW Golf has been around for four decades and seven generations. And there's now a facelifted Mk7 that gets more kit, overhauled engines and a revised trim line-up.
By contrast, the fourth-generation Mégane is a relative newcomer. With its style, refinement and technology, it represents a stern test. With nearly 100 years of development between them, these family machines promise to be the best – but which one takes victory?
Honda Civic
| | |
| --- | --- |
| Model: | Honda Civic 1.0 Turbo EX |
| Price: | £23,040 |
| Engine: | 1.0-litre 3cyl, 127bhp |
| 0-60mph: | 10.1 seconds |
| Test economy: | 36.9mpg |
| CO2: | 117g/km |
| Annual road tax: | £140 |
Over the course of more than four decades, the Honda Civic has grown from a frugal city car into a fully fledged family hatch. The 10th generation is all new inside and out, and takes a more subtle and upmarket approach than its predecessor. There's an overhauled engine line-up, too, and for its first test we sample the 1.0-litre petrol in £23,040 EX guise.
Honda tried to deliver a more grown-up driving experience with the new Civic. Refinement is improved, while the lower and wider stance delivers assured handling. More importantly, the brand has dropped its tried-and-tested naturally aspirated petrol engines in favour of downsized turbos.
Leading the charge is the 127bhp 1.0-litre three cylinder tested here. However, despite nearly matching the Renault for power and developing a muscular 200Nm of torque, the Honda trailed the lighter Golf at the track. It was half a second slower in the sprint from 0-60mph with a time of 10.1 seconds. The Civic trailed the Golf in-gear, too.
On the road you have to work the Honda as hard as the Renault to keep up with the VW. The Civic's engine is eager to rev, but there's more vibration than in either rival, and it's more vocal than the VW's.
By moving the fuel tank from under the front seats to ahead of the rear axle, Honda has lowered the driving position. The electrically-assisted steering is quick, there's plenty of grip and the dampers deliver decent body control in Sport mode. Honda's torque vectoring does a good job keeping you on line, too, but you feel it working more than the VW's smooth system. Switch the suspension to Comfort and the Honda does a good job of soaking up bumps – matching the softly suspended Renault for comfort. Elsewhere, the Honda is impressively refined, and generates less wind noise at speed than the Golf.
Tester's notes: "There are few factory-fitted options for the Honda, but you can add the £600 Technology Pack to EX models. It adds LED lights and wireless smartphone charging."
Volkswagen Golf
| | |
| --- | --- |
| Model: | Volkswagen Golf 1.0 TSI (110) SE Nav |
| Price: | £20,120 |
| Engine: | 1.0-litre 3cyl, 108bhp |
| 0-60mph: | 9.6 seconds |
| Test economy: | 38.5mpg |
| CO2: | 109g/km |
| Annual road tax: | £140 |
The latest VW Golf is essentially an update of the seventh-generation model that made its debut in 2013. The brand has left no stone unturned in its quest to propel the evergreen hatchback to the top of the class. New engines, updated infotainment, more safety features and extra kit all make an appearance. Here we test the 108bhp 1.0-litre TSI petrol in £20,120 SE Nav guise.
The new Golf looks familiar, and it's the same story with the way it drives. You get a desirable package that perfectly blends refinement and composure.
That's not to say there haven't been any changes. Under the bonnet of our car is the three-cylinder 1.0-litre petrol that was previously only available on the ultra-efficient BlueMotion. Despite its diminutive capacity, the turbocharged engine put on a strong display. Its 0-60mph time of 9.6 seconds was half a second faster than the Honda, while it had the larger-capacity Renault beaten during our in-gear assessments. For instance, it covered the fourth gear 30-50mph increment in 5.6 seconds, which was 1.1 seconds ahead of the Mégane.
On the road, the Golf feels more lively as its more powerful rivals, pulling smoothly and eagerly from as little as 1,500rpm, even in the higher gears. With 200Nm of torque at just 2,000rpm, there's little need to work the smooth engine hard – but the unit will spin sweetly to the 6,000rpm red line.
The positives continue when you enter a series of corners, where the Golf responds swiftly to the direct and well weighted steering. There's also bags of grip and rock-solid body control, which make the VW a confidence-inspiring machine. Better still, this agility is matched to impressive refinement and comfort. The ride isn't as soft as the Mégane's, but it's better controlled over big bumps, while engine, wind and road noise have been isolated from the cabin.
Tester's notes: "VW has been clever with this update, targeting areas where the Golf needed improvement. As a result, class-leading quality is backed by cutting-edge tech."
Renault Megane
| | |
| --- | --- |
| Model: | Renault Megane 1.2 TCe Dynamique S Nav |
| Price: | £19,750 |
| Engine: | 1.2-litre 4cyl, 128bhp |
| 0-60mph: | 10.2 seconds |
| Test economy: | 33.9mpg |
| CO2: | 120g/km |
| Annual road tax: | £140 |
The latest Renault Mégane is a real contender, thanks to its blend of slick style, classy cabin and top-notch refinement. In combination with the brand's punchy 1.2-litre TCe petrol engine and well equipped £19,750 Dynamique S Nav trim, the Renault makes a very desirable choice and sets a tough benchmark for the Civic and Golf.
The Mégane has the most powerful engine on test, but at 1,340kg, it's almost as heavy as the Honda. As a result, the Renault wasn't able to pull ahead at the test track, and even trailed in some areas.
It completed the sprint from 0-60mph in the 10.2 seconds, which was just a tenth slower than the Honda. Matters didn't improve during our in-gear tests, where despite its muscular 205Nm of torque, the Renault required 11.6 seconds for the sixth-gear slog between 50-70mph.
As a result, you have to work the engine quite hard to get maximum performance, and the 1.2 TCe unit feels flatter at low revs compared with the smaller capacity VW or similarly powerful Honda. The engine is smooth enough and fairly well isolated, but it doesn't have the characterful thrum of the Golf.
There are different driving modes to choose from including Sport, Comfort and Eco, but they don't alter the character of the car all that much. In fact, it doesn't take long behind the wheel of the Mégane to realise that it has been developed with comfort and refinement in mind. The soft suspension effortlessly soaks up bumps, while wind, road and engine noise are all kept at bay. The Renault isn't as poised on the road as the Golf, but it boasts plenty of grip and accurate, well weighted steering.
Tester's notes: "Metallic paint normally costs £545, but the Flame Red of our car is one of the brand's i.d. colours and costs an extra £100. Other hues include Arctic White and Iron Blue."
Verdict
First place: Volkswagen Golf
The updates to the Golf are subtle, but when a car is this close to the top of the class small tweaks make the difference. The revised infotainment and extra kit are great, while the new small-capacity petrol engine delivers a compelling mix of performance and economy; the 1.6 TDI is almost redundant. The core Golf strengths of quality and practicality remain undimmed.
Second place: Renault Megane
Comfortable, refined and stylish; the Mégane is a hugely desirable family hatchback choice. It's also great value for money, and spacious enough for most needs. It's not quite as sharp to drive as the VW, but it makes up for this with a soft ride and low noise, plus a high-quality feel and neat infotainment. However, its hobbled by poor residuals and the weakest engine here.
Third place: Honda Civic
It's a close-run thing, but the Honda doesn't do quite enough to upset the established order. It's spacious, good to drive and backed by plenty of safety kit, plus it's well equipped in EX guise. However, it can't match the Golf's classy appeal, low running costs and sprightly performance, while the Renault still has the edge for value, refinement and infotainment.
Other options in this category
Vauxhall Astra 1.0T SRi Nav
Price: £20,375Engine: 1.0-litre 3cyl, 104bhp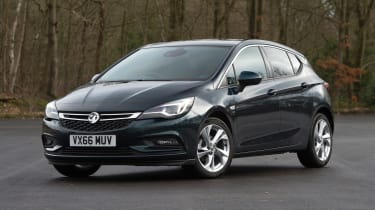 Latest Astra boasts sharp looks, excellent driving dynamics and an eager three-cylinder engine. It can't quite match the Golf for upmarket appeal, but the Vauxhall is solidly built and SRi Nav trim gets decent list of kit, including excellent OnStar concierge service.
Mazda 3 2.0 Sport Nav
Price: £20,845Engine: 2.0-litre 4cyl, 118bhp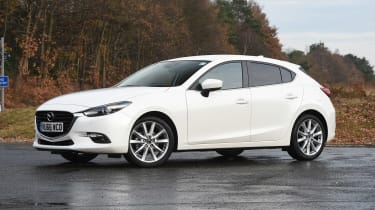 Mazda has ignored latest trend for downsizing, so handsome 3 gets a naturally aspirated 2.0-litre petrol that emits impressively low 119g/m of CO2. Revvy engine combines with engaging handling to make the well equipped hatchback a top choice for keen drivers.