Hyundai Genesis 5 Series rival on its way to the UK
Hyundai will launch its Genesis all-wheel-drive executive car in the UK in right-hand-drive
Hyundai is set to lock horns with the elite of the UK executive car market after it confirmed that the Hyundai Genesis will be sold in the UK in right-hand-drive form.
The latest 2015 Hyundai Genesis was first shown at the 2014 Detroit Motor Show in January and will arrive in the UK and Europe this summer. Power comes from a 311bhp 3.8-litre V6 that sends drive to all four wheels via the HTRAC all-wheel drive system. All Genesis models use an eight-speed automatic gearbox.
The Genesis will not be sold through the existing network of UK Hyundai dealers, but will be sold directly through Hyundai's head office. Potential customers will have the car delivered and personally demonstrated to them, while a full collection and delivery service will be offered for any after-sales work.
Hyundai only expects to sell around 20 Genesis models a year, with the brand targeting Korean diplomats as well as existing Hyundai customers who wish to upgrade their cars. That means it will get a full five-year warranty, just like Hyundai's other UK models.
Modest sales targets of around 1,000 units across continental Europe indicate a desire to gain a small foothold in the competitive executive car segment where the likes of the BMW 5 Series, Mercedes E-Class, Jaguar XF and Audi A6 hold sway.
Hyundai Genesis 2015: a diesel engine is possible
It's demand from other right-hand-drive markets including South Africa and Australia that has prompted the conversion of the Genesis to RHD form. Allan Rushforth, Chief Operating Officer of Hyundai Motor Europe, has also indicated that global demand for the car could result in new engine options. "If we can demonstrate demand and underwrite the volume, we'll look at a diesel."
There's no information yet on how much the Genesis will cost in the UK market but Allan Rushforth also stated that the car would be "better value than established players". For a V6, all-wheel-drive executive car, that would seem to indicate a starting price in the region of £35,000.
Hyundai Genesis 2015: details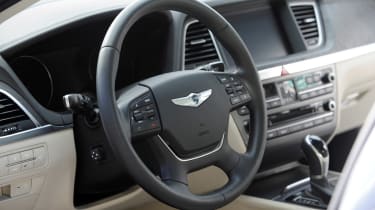 As well as the 3.8-litre V6 we'll be getting, Hyundai also offers the Genesis with a 420bhp 5.0-litre V8. It's available with rear-wheel drive only but there's no word on that model getting a UK release.
The Genesis doesn't come with air suspension, but Hyundai claims the ride on the 18 or optional 19-inch wheels will still match its rivals. The V8 model also features adaptive dampers.
At nearly five metres long and with a three-metre wheelbase, the Genesis is a similar size to both the Audi A8 and new Mercedes S-Class. It gets a new take on Hyundai's 'fluidic sculpture' design language – imaginatively called 'fluidic sculpture 2.0'.
Its front features a big, trapezoidal grille raked flanked by large HiD headlights that look a bit like those fitted to the BMW 7 Series.
Inside, the dashboard is dominated by a large HD touchscreen mounted above the centre console, and a large four-spoke steering wheel covered in audio and paddle shifters for manual changes.
Interesting tech includes a carbon dioxide sensor in the cabin, which senses when CO2 levels reach more than 2,000 parts per million – a figure above which the driver can begin to feel drowsy. It then adjusts the climate control to ventilate the cabin.
Hyundai has also shown how the Genesis is compatible with Google Glass – the search giant's new wearable, computerised headset.
Genesis drivers wearing the tech will be able to remotely start their car, unlock the doors, and be led to their car should they forget where it's parked via their Google Glass headset.