Mazda and Isuzu partner on next generation of pick-up trucks
New deal will result in a model to replace the Mazda BT-50 and Isuzu D-Max pick-up trucks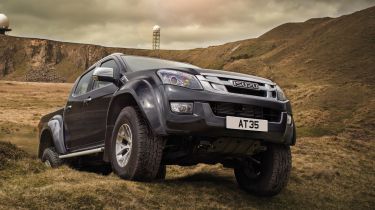 Mazda and Isuzu have announced they intend to collaborate on their next generation of pick-up trucks. The new model is likely to replace current Mazda BT-50 and Isuzu D-Max models but we have no details on a potential launch date as yet.
Under the tie-up agreement, the new trucks will be manufactured by Isuzu and sold under licence by Mazda. The two firms already collaborate on larger trucks sold overseas, with a spokesman commenting this new deal "reinforces the continuous long-term relationship between Mazda and Isuzu".
• Best pick-up trucks to buy now
The current Mazda BT-50 pickup is based on the Ford Ranger T6 and isn't sold in the UK. It is a hangover from a previous alliance between Ford and Mazda. Once production of that truck ends it will mark the end of the connection between Ford and Mazda that once saw the Mazda car range predominantly based on Ford platform technology.
Isuzu's D-Max went on sale in 2012 and has been popular with buyers thanks to its strong engines, wide range and attractive list prices. However it is now starting to feel a little dated with newer rivals such as the latest Mitsubishi L200, Nissan Navara and Toyota Hilux offering better handling characteristics and more modern interiors.
The pick-up market in the UK is growing and with manufacturers such as Fiat, Renault, PSA Peugeot Citroen and Mercedes-Benz all launching or planning to launch new models, Isuzu and Mazda will be keen to avoid being left behind.
Is Isuzu sharing pick-up technology with Mazda a good idea? Let us know in the comments section below…