Jeep Grand Cherokee (2005-2011) review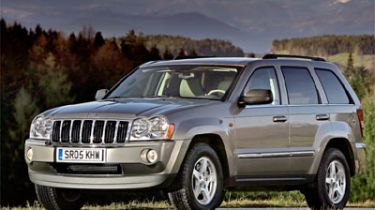 Jeep might have a heritage to rival Land Rover in the off-road stakes, but it's been slower than its British competitor to capitalise on the on-road-off-road phenomenon. However, this all-new Grand Cherokee aims to claw back some sales in this highly competitive sector, while still offering the off-road performance that the Jeep name is legendary for. With a range of fresh new engines, including an excellent Mercedes-sourced 3.0-litre CRD turbodiesel, the Grand Cherokee now has more appeal for European customers. However, if you're not concerned with fuel consumption you can opt for a range of V8 units from 4.7-litres through to a massive 6.1-litres.
All are mated to Jeeps new Quadra-Drive II four-wheel-drive system, which ensures that on and off-road the big American is unstoppable. On road it's a big step forward for Jeep, with decent ride and sharper steering, but despite this it's no rival for road-biased rivals from BMW, Mercedes, Volkswagen, or even Land Rover's models which also offer similar off-road ability. Beefy styling is sure to win it a few buyers though, as it still looks like a proper off-roader with chunky lines and that seven-slat Jeep grille. Inside it's not so impressive, the American's idea of a quality interior differing from our expectations. The plastics feel and look cheap, though there is lots of space. The most impressive model in the Jeep line-up, the new Grand Cherokee has taken a step towards its rivals, but only a small one.
Engines, performance and drive
0
MPG, CO2 and Running Costs
0
Interior, design and technology
0
Practicality, comfort and boot space
0