Jeep Grand Cherokee SRT review
We get behind the wheel of the Grand Cherokee SRT, which is powered by a 461bhp 6.4-litre Hemi V8 engine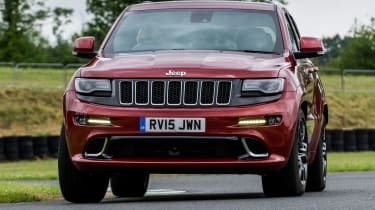 The SRT packs plenty of feel-good factor, with a gargantuan V8 snorting away under the bonnet and its bold and brutish American styling. But even the relative value and decent practicality of this hot Grand Cherokee can't take away from some better rivals. Nearly £64,000 is a lot to pay and it doesn't drive well enough or feel special enough inside compared to the standard version.
Think of a performance SUV and the
Porsche Cayenne
and
BMW X5M
might pop in to your head, but have you ever considered the Jeep Grand Cherokee SRT?
The Jeep Grand Cherokee SRT adds an American flavour to the fast off-roader market by using a blend of technology and brute force to deliver high-octane thrills and SUV practicality.
Jeep's Street and Racing Technology team has added a huge 6.4-litre HEMI V8 to Jeep's flagship off-roader, so it now produces 461bhp and can sprint from 0-62mph in five seconds – that's not bad for a car that weighs almost 2.5 tonnes.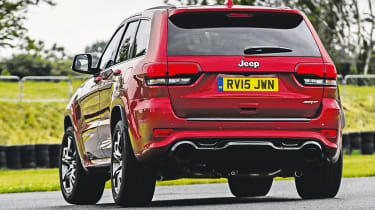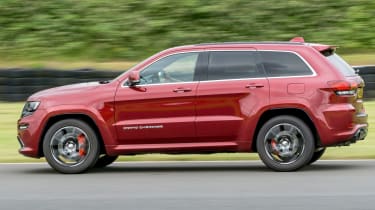 But even if you don't hear it coming you'll definitely see it. A handsome design means the regular Jeep Grand Cherokee is a good base to start from for a pumped-up performance off-roader, and this SRT model wears its styling modifications well.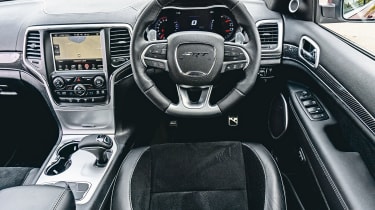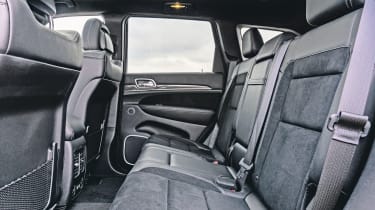 As you might expect from a 6.4-litre V8, lugging around just under two tones of high-performance SUV, fuel consumption in the SRT is terrible. Jeep puts the official figure at 20.1mpg and that's despite a system that shuts off half of the engine's cylinders under light throttle loads. 
More reviews for Grand Cherokee SUV
But the astronomical fuel bill doesn't seem as bad when you consider a Porsche Cayenne Turbo – which is only three-tenths quicker from 0-62mph – costs nearly £30,000 more than the SRT's £63,995 price-tag. The SRT will depreciate quickly, too – our experts predict the Grand Cherokee will hold on to only 31.7 per cent of its new price after three years. It'll lose a sizeable £43,696 of its value.
And everything you could ever ask for already comes as standard on the Jeep including part-leather seats, a dual-pane sunroof, a 19-speaker stereo, sat-nav and adaptive cruise control. The only thing missing is the genuine sense of luxury that you get in other European SUVs; the Grand Cherokee still has a few cheap feeling areas in the interior.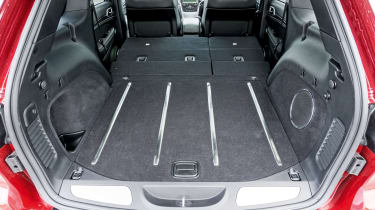 In terms of interior space, the Cherokee is still a great proposition thanks to its boxy body. With the rear seats up the Jeep offers 782 litres. Fold them down and the maximum luggage capacity stretches to 1,554 litres, plus the SRT's massive width means the square opening is very useful. The button for the electric tailgate is mounted in an odd place inside the boot, though, next to the handy LED torch.Cabin storage is strong. There are two cup-holders next to the gearlever, decent-sized door bins and a good glovebox. You also get extra room under the boot floor and no loading lip, but the load cover sits quite low beneath the window line.