Next-generation Jeep Renegade to continue with pure-electric power
The retro-styled Jeep Renegade be turned into an EV, thanks to Stellantis technology
Jeep's all-electric future has been laid bare with the news its Renegade model will be added to its emerging all-electric lineup by 2026. The Renegade has been with us since 2015, becoming the brand's best-selling car in Europe, so its switch to electrification will be a pivotal moment for the American firm. 
The new all-electric Jeep range will firstly consist of four vehicles. We've already seen three of them, with the chunky, off-road-focused Recon, range-topping Wagoneer S luxury SUV and the new Avenger small SUV. Like the Renegade, the Compass will also transition to pure-electric power but will arrive earlier thanks to it sitting on the STLA Medium architecture.
The Renegade will gain the STLA Small platform, which isn't going to launch until 2026. Jeep has stood firm on the idea its cars will be able to perform off-road, so all of the STLA platforms will allow for four-wheel drive. A range of electric powertrains will be available - with power ranging from 168bhp to 241bhp. 
With the introduction of the Avenger as Jeep's small SUV, senior Jeep sources have said there's room for the Renegade to grow (especially with the Compass expanding into the full-size SUV sector). Our exclusive image shows how the Renegade EV could look when it arrives in 2026, retaining its boxy design in comparison to the more contemporary Compass EV.
Jeep engineers and designers have already had input into STLA chassis designs to make sure the tech can support their more off-road-orientated vehicles. The company's chief designer, Ralph Gilles, admitted that his team is "currently working on 11 new models in parallel".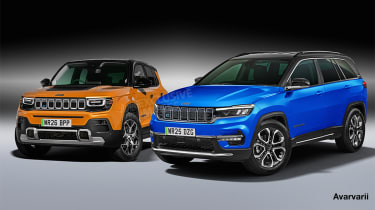 Gilles explained: "It's been really good working with our colleagues elsewhere at Stellantis. We're specialists in bodies and they're specialists in electrification.
"We've had input at this early stage to make sure there's scope for chassis to be stretched or, for example, extra suspension travel," he added. "That's why we have so many models in the works, to make sure that when the time comes to deliver them, we're able to do so."
Now read about the Jeep Avenger 4x4 Concept...