"The Land Rover Defender is undoubtedly unforgettable"
Two recent manufacturing milestones got deputy editor Graham Hope thinking about the most memorable motors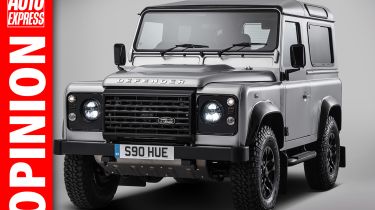 I'm lucky enough to drive a lot of cars, some more memorable than others. The Land Rover Defender is undoubtedly among the unforgettable.
One of my early experiences of it was certainly eventful. On the streets of Haringey, north London, I got stuck in a Defender as a big fight broke out around me between Turkish football fans and local Kurdish rivals during 2002's World Cup.
To be honest, I was glad I was in something elevated and robust, although on the bumpy roads of the capital the Defender has rarely made as much sense as in the great outdoors, where as we all know, it's unstoppable.
• "Our 2015 Brit List highlights the incredible talent from the UK"
This week, the two millionth Defender was built – a tribute to its enduring popularity. The current model is, of course, now on borrowed time in the UK, although the idea it may live on elsewhere is a warming one for those of us sorry to see it go.
The original Mini apart, there's arguably no other British car that is as instantly recognisable and has made such a huge impact globally. Yes, Land Rover has exciting plans to replace it, but when you consider the Defender's astonishing 67-year lifespan, it's obvious we'll never see its likes again, more's the pity.
Another car celebrating a landmark is the Kia Cee'd. Number one million was recently built at the firm's Slovakian factory, and as you can read here, we were there to help get the next million underway!
• "Reports of the death of the motorist are greatly exaggerated"
Clearly the Cee'd can't claim to be as iconic a model as the Defender, but it's been no less significant for its manufacturer. No other car in the Kia range played a bigger part in transforming the company from budget brand also-ran into a force to be reckoned with in the mainstream market.
To celebrate the Cee'd's ongoing success, we're offering you the chance to get your hands on a stylish Pro_cee'd.