Lotus reports first operating profit in around 40 years
Lotus' financial reports are in the black, partly thanks to the sales success of the Evora 400 in the United States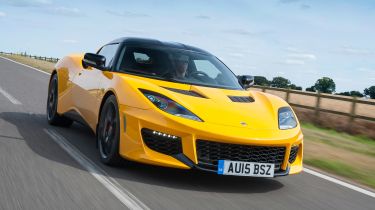 Lotus, the car company, will produce an operating profit for the first time this year since the 1970s, according to its flamboyant CEO from Luxembourg, Jean-Marc Gales.
Talking to Auto Express, Gales said: "Not since the Chapman era has the car side of Lotus turned an operating profit." And he puts such success chiefly down to the unprecedented success of the Evora 400 in the USA.
The 400 was launched officially by Lotus in the US in August this year, and is now sold out there until late March next year. Basically, they can't build them fast enough at Hethel to satisfy demand in the US, which remains world's biggest sports car market.
But there are other key reasons why the car making side of Group Lotus is at last making an operating profit, having spent decades in the financial wilderness.
When Gales joined the company in May 2014, there were 1200 employees making less than 1200 cars a year at the Hethel-based factory.
"Today" says Gales, "we have approximately 800 employees producing over 2000 cars a year, all of which are of a much higher quality than before. And we are also now selling top quality cars in the United States, where they seem to understand and connect with our cars nowadays."
Gales, 55, joined Group Lotus as CEO just over two years ago having been the boss at both Peugeot and Citroen previously, with significant stints at Daimler, VW and GM on the way up.
In the future, he says, there is the possibility of a Chinese-built Lotus SUV to further boost the company's profits, and broaden its appeal. But that's still a good few years away yet.
In the more immediate future expect a roadster version of the Evora, yet fruitier versions of the Exige, Evora and Elise plus maybe a factory return to serious GT racing as well.
What do you think of the news? Leave us a comment below...