Mazda 2 diesel 2015 review
New Mazda 2 looks great, is fun to drive and is a serious competitor to the Ford Fiesta and VW Polo
Mazda is on a roll and the new 2 brings something fresh to the supermini class with its chiselled looks, plush interior and engaging handling. There are question marks over some of the interior materials, and refinement of the new petrol engine, but assuming Mazda can iron these issues out before it goes on sale next spring, it should be a serious contender in the most competitive class of all.
Over one in every five cars sold in Europe is a supermini, and the Ford Fiesta has been the best-selling UK car for the past five years, so it's little wonder that Mazda has high hopes for the all-new 2. And to be frank, so do we.
Since the CX-5 arrived in 2012, followed by the 6 and the 3, Mazda has struck a rich vein of form for producing mainstream cars that look great and drive brilliantly. So could the Mazda 2 really knock the Fiesta off its perch? We were invited to drive a variety of pre-production models in Barcelona to find out.
Whichever way you look at it, the Mazda 2 is new in every respect compared its predecessor. There are two brand new engines and gearboxes, the wheelbase has been stretched by 80mm to unlock some more interior space, the electric steering is quicker and the suspension geometry and settings have been retuned.
By increasing the amount of high-tensile steels, the body is 22 per cent stiffer but lighter than before, allowing Mazda to up the equipment levels but keep the overall kerbweight constant. This means the 1,040kg diesel model weighs a full 77kg less than the equivalent Fiesta.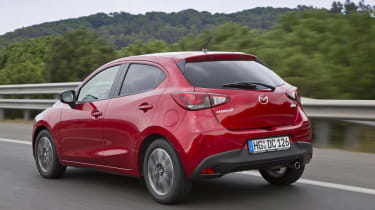 It's the design that has to reel in the customers, though, and its here where the Mazda 2 noses ahead of the competition. You're probably familiar with Mazda's 'Kodo' design language by now and with its short overhangs, three-dimensional chrome wing element under the front grille and optional full LED lights, the 2 is a beautifully-proportioned piece of design with detailing to match. If we had one criticism it's that even the largest 16-inch wheels don't quite fill the arches - but any bigger and they would inevitably spoil the ride.
The interior is just as impressive, with the most expensive-looking design this side of an Audi A1. The asymmetrical bulls-eye vents are taken straight from Audi's design book, but look great, while the seven-inch display and rotary controller is reminiscent of the Mercedes A-Class, and brilliantly simple to use.
There's a head-up display too - a first for this class – while the materials on our top-spec test car were exceptional in some areas (leather trim on dash, door panels, seats) and suspect in others (scratchy plastic on the top of doors, glove box), but as the test involved pre-production cars we can assume those will improve.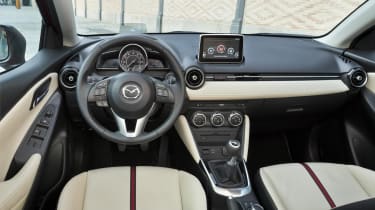 In terms of ergonomics, the range of adjustment for the front seats and steering wheel is superb, while the pedals are nicely positioned without any offset. In the back there's more room than a Fiesta, and two adults can easily sit behind each other – as long as they're not both six-footers. The deep boot is 280 litres with the rear seats in place, or 960 litres with the folded down (10 and 14 litres less than the Fiesta respectively, but 30 and 173 litres more than its predecessor).
Two all-new engines have been developed for the Mazda 2. First is the 1.5 SKYACTIV-G - available with 74bhp, 89bhp or 113bhp, and with a new six-speed manual or six-speed automatic gearbox. It does without a turbo but has a compression ratio of 14:1 (the highest of any naturally aspirated petrol engine), a strategy that Mazda insists delivers better real-world fuel economy.
The 1.5 SKYACTIV-D diesel is only available with 104bhp and a manual 'box, but returns an impressive 83.1mpg and 89g/km of CO2, putting it right up there with the cleanest cars in the class.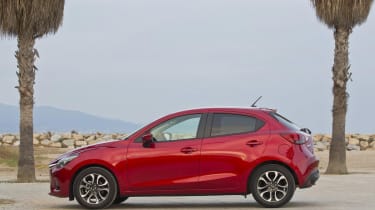 We drove the 89bhp petrol, as well as the diesel, and while petrol engines normally make more sense in small cars like this, we found it to be the opposite here. Driven calmly and keeping the revs below 3,500rpm, the petrol engine is refined and quiet with plenty of torque and sharp throttle response. But stretch it nearer to the limiter and it starts to sound coarse, with a booming engine note that quickly gets tiring.
We tried it with the new automatic transmission, which does its job well so long as you don't ask it to kick down too suddenly – a pair of paddle shifters would help in that respect.
It's the diesel that surprised us, though, doing an excellent impression of its 2.2-litre relation. Unlike most diesels, which deliver a surge of power followed by a flat spot, it offers a much more linear power delivery and is happy to rev without sacrificing its refinement. In-gear performance is strong too, and while the manual gearbox could do with a shorter throw, it has a pleasing MX-5-style notchy feel to it.
With a quicker ratio than its predecessor, the electric power steering is light and doesn't weight up much in corners, but is so direct you quickly become confident placing the car and darting in and out of traffic. For the daily grind it's comfortable enough, too, only juddering over pot holes and bigger bumps despite stiffer springs and dampers than its predecessor. However, to pass a verdict on its high-speed refinement, or see whether it can out-handle a Fiesta on the limit, we're going to need a more extensive test drive than this early taster.