Mazda 5 (2005-2010) review
Good value, practical and decent behind the wheel. For families looking to get the most out of their car, Mazda's compact MPV is it.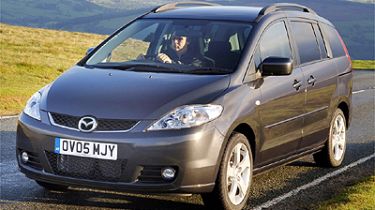 Driving The 5 is good to drive. Ride quality is impressive and although it occasionally felt busy on rough roads, on the whole it's well-mannered. The Mazda is also fun in corners, with detailed steering feedback, while most engines deliver good power and torque. Its low kerbweight also means it's no surprise this seven-seater has a strong turn of pace in all guises, though we'd recommend you go for one of the diesels if you can; their strong reserves of torque suit the people carrier well. A snappy, high-set gearshift and crisp, informative steering complete the deal, though the pedals are a little oddly angled; they seem to be set higher than is comfortable, sometimes causing us to press on the brake pedal harder than expected.
Marketplace Talk about being packed full of features. Mazda has crammed everything you'd expect to see on a full-size MPV into its compact class contender. There are seven seats, plus sliding rear doors to overcome access issues in tight parking bays. The range is straightforward, featuring a 1.8-litre petrol plus 2.0-litre petrol and diesel powerplants. TS, TS2 and Sport trims are all well equipped, which leaves it well-positioned to compete with rivals including the Vauxhall Zafira, Honda FR-V, Ford C-Max (with which it shares a platform), Toyota Corolla Verso, Renault Grand Scenic and Citroen Grand C4 Picasso.
More reviews
Car group tests
In-depth reviews
Long-term tests
Used car tests
Owning Fitting all the Mazda's large MPV features into a comparatively small model does call for compromises. Even perching a small child in the middle of the centre row would soon elicit grumbles - it's a temporary seat, no more. Mazda proves as much by fitting it with a mechanism that folds it away out of sight within the nearside seat... and why the company's brochure calls it a '6+1'! Access to all back seats is easy through the Mazda's excellent sliding rear doors, and even in the rearmost chairs, two adults could while away a long journey in comfort. Of course, with a full complement of passengers on board, boot space is minimal, but it improves greatly once one or two chairs have been stowed away. We also liked the rear hatch, which can be raised an extra few centimetres by pushing it when open, reducing the likelihood of taller owners catching their foreheads. The fuss-free dash features large rotary dials for the ventilation and stereo controls, and there are also steering wheel-mounted audio buttons. And visibility is good, too. Unsurprisingly, diesel models fare best when it comes to economy; fully-loaded petrol models will prove thirsty, though servicing rates are acceptable and insurance ratings decent. The used market seems to have taken to the 5 as well - retained values are excellent, some of the best for any compact MPV. But the Euro-NCAP rating isn't as good as many competitors.
Engines, performance and drive
0
MPG, CO2 and Running Costs
0
Interior, design and technology
0
Practicality, comfort and boot space
0