The top ten best cars for interior and comfort
Driver Power asked UK new car buyers about their cars' interior and comfort, here are the top ten highest rated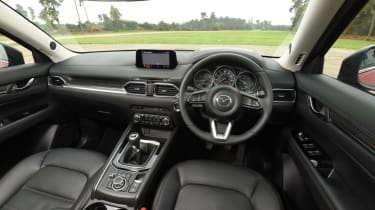 Winner: Mazda CX-5Incorporated subcategories: interior styling, quality of fit, finish and materials, front seat comfort, visibility from driver's seat, rear seat legroom
Interior and comfort is a hugely important category in Driver Power. A car can look great outside and drive well, but if you find it impractical or uncomfortable you simply won't enjoy spending time behind the wheel.
According to owners, the Mazda CX-5 has the best interior in the business. It picks up the highest rating in the survey for the quality of fit and finish, while also scoring strongly in the other four areas that make up the interior and comfort category. But the CX-5 doesn't dominate proceedings.
Peugeot's 3008 was voted to have the best-looking interior and the Toyota Verso the most comfortable front seats, while Land Rover's Discovery Sport had the most rear legroom and the Kia Niro the best visibility from the driver's seat. Vauxhall's Mokka X made the top 10 with good scores across the board.
Your view
"Love my CX-5's seating position. It's totally adjustable and the heated seats are a big plus"
The top ten best cars for interior and comfort