Only special standalone Mercedes-AMG electric cars to get '63' badge
The brand's current EVs are too heavy to wear AMG's top-line boot badge, with the high-performance 63 tag to be reserved for all-electric replacements for models like the AMG GT supercar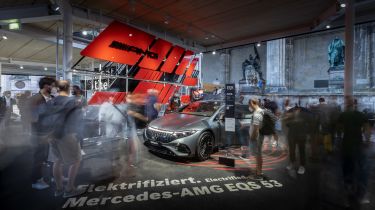 Mercedes-AMG's chief technical officer Jochen Hermann has revealed that the brand's all-new EQE saloon, EQS limousine and upcoming EQS SUV will all miss out on a high-performance 63 version.
Speaking to Auto Express at the 2021 Munich Motor Show, Hermann said that models built on the brand's EVA2 architecture would mirror the new Mercedes-AMG EQS 53 S 4MATIC+ and only carry the '53' nameplate that was traditionally employed on mid-range AMGs.
Despite missing out on the flagship 63 designation, Hermann assured AMG fans and drivers of the recently revealed EQS 53, that produces up to 751bhp, will not be left wanting.
"This car is a full AMG – it's really different from an EQS 580. From the first few metres you have to feel it's an AMG, from the steering to the braking, the behaviour of the car – this is what an AMG is about," he said.
Capable of sprinting from 0-62mph in just 3.4 seconds, topping out at 155mph (if you tick the box for the AMG Dynamic Plus pack that is), initially there was debate that perhaps AMG's first EV should be badged a 63 after all, but Hermann overruled his colleagues.
"The difference between a 53 and 63 most of the time has been how much you can go on a racetrack with an AMG. Owners can expect all they know and love from driving an AMG, but it's [the EQS] not a car for the racetrack. Not because of its performance, but because of its weight and battery size."
Instead, the 63 nameplate will be reserved in the future for standalone AMG models based on the sub-brand's dedicated EA platform that will be introduced in 2025 for cars such as the all-new replacement for the AMG GT supercar and, potentially, a battery-electric hypercar to follow in the tyre tracks of the Project One.
When asked if owners might be disappointed that the EQS 53 is outgunned by Tesla's Model S Plaid on acceleration, Hermann replied: "I believe with electric cars the easiest thing you can do is accelerate, but then it's still not a performance car in my mind. There are different things needed for it to be a performance car."
Hermann added that from now on AMG will focus on delivering vehicles with electric powertrains that supply constant performance and can carry high corner speeds.
AMGs will also incorporate some radical thinking into its future products that will be completely at odds to its more range-obsessed parent.
Instead of focusing on energy-density (how far you can travel on a single charge), Herman said power density – the ability of the power unit to deploy maximum current over prolonged periods for sustained maximum power – would be the key to giving AMG the edge over all its rivals.
The next-gen battery cells would not only supply more current quicker, but they would also be capable of ultra-fast charging well beyond the maximum 350kW rate currently available.
"I think fast charging is something people would love to have with an AMG and since it's built-into a 63 that's another benefit."
Fast charging and a deliberately modest range of around 500km (310 miles) will allow AMG to fit a far smaller, much lighter battery, according to its tech chief. This will enable cars like the next AMG GT to be much lighter, boosting track performance.
The biggest gain in performance, Hermann says, will not be from the powerpack, but the motors that drive the fastest 63 models following parent Daimler's purchase of British tech firm YASA, which makes next-gen in-hub 'axial' motors.
Previewed in Mercedes' Concept EQG 4x4, the benefit of the new motors over traditional radial motors is their ultra-compact size, light weight, huge power and, the fact they're fitted to all four wheels providing unprecedented levels of torque vectoring – crucial the AMG boss says for unprecedented levels of agility.
Add into the mix advanced composites, new braking tech, plus wild aerodynamic knowhow accrued developing the Project One and Hermann is confident future 63 models will be well-worth the wait.
"It may be the most challenging, most exciting times to be working at AMG. We can make history", he said.
Click here for our list of the world's fastest electric cars...