Mercedes A-Class vs Volkswagen Golf vs Audi A3
The new Mercedes A-Class redefines the premium hatch, but can it beat the VW Golf and Audi A3? We find out...
Over the years the Mercedes A-Class has morphed from what was an innovative rethink on the small MPV to a gawky also-ran, before a total redesign in 2012 turned it into a thoroughly competitive premium family hatchback. Now Mercedes has had another innovative rethink with the fourth-generation A-Class.
The latest version takes its design inspiration from the firm's new, high-end models such as the CLS, while the interior promises to offer a level of tech and quality pretty much unseen before in this sector.
But this area of the market is packed with premium rivals that have proven their ability time and again. First up is the Volkswagen Golf, which has become the benchmark in this class over decades of evolution.
In its current Mk7.5 form it delivers space, economy, quality and a great level of technology. Mercedes does battle across the board with Audi, and on paper that brand's A3 Sportback is a package with which the A-Class is closely aligned and will have to beat. Solid driving dynamics and cool tech mean the Audi provides a stern test.
However, our winner will have to blend a long list of attributes, while the financial factor will also come into it. So let's find out which car is the strongest offering. 
Mercedes A-Class
| | |
| --- | --- |
| Model: | Mercedes A 200 AMG Line |
| Price:  | £28,700 |
| Engine:  | 1.3-litre 4cyl turbo, 161bhp  |
| 0-60mph:  | 7.4 seconds |
| Test economy:  | 41.2mpg/9.1mpl  |
| CO2:  | 123g/km  |
| Annual road tax:  | £140 |
As is the way with the latest car in any class, there's lots of new tech for this 2018 Mercedes A-Class. We're testing the A 200 petrol in AMG Line trim, which starts at a fairly pricey £28,700 – but its rivals cost similar money, too, so can it beat them?
The A-Class's downsized engine boasts more power than its VW Group rivals, and on test it asserted its authority, taking the car from 0-60mph in 7.4 seconds, which was four tenths faster than the Volkswagen and the Audi.
However, the seven-speed dual-clutch gearbox isn't as snappy in manual mode and holds on to ratios longer than its DSG competitors in auto, so despite its extra power the Mercedes was only as fast as the Golf through the ratios from 30 to 70mph (6.8 seconds) and two tenths slower than the lighter Audi.
The power advantage came to the fore once more during our in-gear assessments, where the A 200 just shaded its competitors in most of the tests. However, it was not by a such a margin that the A-Class had a discernable advantage on the road.
But the engine does feel more strained than the 1.5 turbo units in its rivals, which is partly due to the drone it makes under load. The power delivery has a few noticeable steps lower down in the rev range, too, and isn't as smooth as either the VW or Audi.
That is also true of the ride. It's not the most forgiving at low speed and despite that more sophisticated multi-link rear axle, the A-Class struggles to cope with faster, harsher imperfections, jiggling the body and, consequently, the occupants around inside.
Things smooth out at higher speed and the Mercedes deals with rolling road surfaces well, but a big, jagged bump will still clatter up through the suspension.
Partnership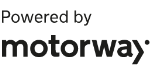 Need to sell your car?
Find your best offer from over 5,000+ dealers. It's that easy.
There's a good degree of composure, though, and while the car feels benign it does inspire enough confidence thanks to its stability.
Testers' notes: All A-Classes have lowered sports suspension, so if you're after more ride comfort than dynamic handling, think about the trim you choose. Sport spec gets 17-inch wheels; this AMG Line has 18s. 
Volkswagen Golf
| | |
| --- | --- |
| Model: | Volkswagen Golf 1.5 TSI EVO DSG R-Line 5dr |
| Price:  | £26,980 |
| Engine:  | 1.5-litre 4cyl turbo, 148bhp  |
| 0-60mph:  | 7.8 seconds |
| Test economy:  | 38.6mpg/8.5mpl  |
| CO2:  | 114g/km |
| Annual road tax:  | £140 |
In every sense the Volkswagen Golf is the car the A-Class has to beat. It's our current favourite family hatchback and blends premium appeal with practicality and technology. At £26,980, this 1.5 TSI EVO DSG model in R-Line trim is the cheapest here.
The powertrain is a known quantity, and at our test track it performed well, with a smooth swell of torque low down (250Nm to match the Mercedes, but produced lower down from 1,500rpm) that delivered decent acceleration.
As we've already seen, it wasn't quite as quick as the A 200, but this 1.5 TSI EVO Golf pulls well and is crucially smoother, so while it might lack the last few tenths in straight- line acceleration, it's not so critical out on the road.
The transmission makes up for a slight lack of performance, too. With the powertrain shared with the A3, the VW and Audi's dual-clutch boxes are more accomplished than the Mercedes'. They shift quicker in manual mode and are slightly smoother in auto, too.
Thanks to our car's £850 Dynamic Chassis Control adaptive dampers, the Golf's damping is as pliant and plush as ever, even on £500 optional 18-inch alloys. The larger wheels mean it thumps over potholes a little more, but the damping is still more forgiving at low speed than in the A-Class.
At higher speeds on country roads those larger wheels and lower-profile tyres help, because the Golf delivers all the agility you could realistically want from a family hatch. But this doesn't compromise ride quality or refinement, either. There's a good level of grip to match the Mercedes, while the steering is similarly lifeless, but slightly more precise.
Along with the ride, it's a little more refined, too. The engine doesn't sound particularly pleasant, but it doesn't have the A-Class's strained note, either, while wind and road noise are well suppressed.
Testers' notes: While the interior isn't as modern as the A-Class's, the Golf's ergonomics are sound and everything is constructed from high-quality materials that easily match the Mercedes'. 
Audi A3
| | |
| --- | --- |
| Model: | Audi A3 Sportback 1.5 TFSI S tronic S line |
| Price:  | £28,835 |
| Engine:  | 1.5-litre 4cyl turbo, 148bhp  |
| 0-60mph:  | 7.8 seconds |
| Test economy:  | 39.0mpg/8.6mpl  |
| CO2:  | 114g/km |
| Annual road tax:  | £140 |
With a similar mechanical make-up to the VW, the Audi A3 is another premium hatch. It appeared before the Mk7 Golf, showcasing some clever tech. It's had some revisions over its six-year life, too, but is it still competitive in this class? To find out, we test a £28,835 1.5 TFSI S tronic in S line trim.
Unlike the Golf, our A3 didn't have adaptive dampers, and on £325 18-inch alloys the ride feels crashier than the VW's. It suffers from a similar problem as the Mercedes at lower speeds, but doesn't feel quite as busy over broken roads or fidget as much in town. Once you get out on to more open, flowing roads the A3's chassis set-up makes more sense, because it's direct and responsive with plenty of stability.
Due to the MQB underpinnings the steering feels similar to the VW's. But it doesn't have a dynamic edge over the Golf and can't match it for comfort.
The A3's 1.5 TFSI unit did deliver performance to match the VW, though, with the low-down torque morphing into a keen top end that, for a regular engine, encourages you to exploit the performance. It's matched by a DSG box that delivers smooth and quick changes in manual mode, while in auto it's mostly unobtrusive, with only the jerky clutch engagement when manoeuvring (a problem the Golf suffers from, too) taking the shine off an otherwise sweet engine and gearbox combination.
Testers' notes: It's a shame that you have to spec the £1,395 Technology Pack on S line trim to get the Virtual Cockpit. It's not available as a standalone feature, as it is with the Golf. 
Verdict 
First place: Volkswagen Golf
The Golf asserts its authority again thanks to its all-round ability. It's the most affordable and comfortable choice, but also the sweetest to drive, while it'll be cost-effective to run, too. Factor in great standard infotainment, more practicality and plenty of quality, matched by a good level of usability, and the VW is still the undisputed king of the family hatchback sector.
Second place: Mercedes A-Class
Mercedes' latest A-Class has taken a big leap forward. It feels more upmarket thanks to its advanced but optional infotainment, yet while the packaging is improved, it's still not as practical as the Golf. It doesn't drive as well, either, mainly due to a lack of comfort over the VW, and while it's slightly quicker, it'll be pricier to buy and more expensive to run than the Golf.  
Third place: Audi A3
While it uses similar hardware to the Golf, the A3 trails a little on execution, and six years after launch it's starting to lag behind the best in the class. It's fast, fun to drive and composed, while it offers relatively strong usability. Despite impressive economy and lovely quality, the Audi is the priciest car here, but doesn't feel as advanced in standard form inside. 
Other options in this category...
BMW 1 Series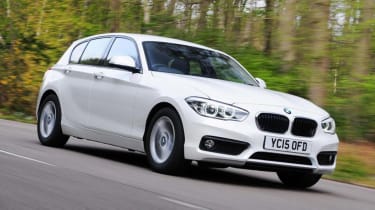 Model: BMW 120i M Sport Auto 5drPrice: £29,320Engine: 2.0-litre 4cyl, 181bhp
BMW's 1 Series is one of the more dynamic premium hatchbacks on offer. It has the measure of the A-Class for enjoyment behind the wheel, but even after a facelift, it doesn't feel as modern as the Mercedes.
Infiniti Q30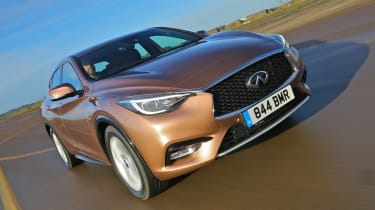 Model: Infiniti Q30 1.6t Luxe Tech DCTPrice: £30,610Engine: 1.6-litre 4cyl, 154bhp
The Infiniti Q30 is based on the previous-generation A-Class, but lines up as a premium hatch to rival this crop. Yet the cabin is cramped, the 1.6 engine feels strained and it's pricey, even compared with these models.
Figures
| | | | |
| --- | --- | --- | --- |
|   | Volkswagen Golf 1.5 TSI Evo DSG R-Line 5dr | Mercedes A 200 AMG Line | Audi A3 Sportback 1.5 TFSI S tronic S line |
| On the road price/total as tested | £26,980/£34,370 | £28,700/£31,710 | £28,835/£30,335 |
| Residual value (after 3yrs/36,000) | £10,301/38.2% | £11,999/41.8% | £11,926/41.4% |
| Depreciation | £16,679 | £16,701 | £16,909 |
| Annual tax liability std/higher rate | £1,231/£2,462 | £1,424/£2,848 | £1,316/£2,363 |
| Annual fuel cost (12k/20k miles) | £1,829/£3,048 | £1,713/£2,856 | £1,810/£3,017 |
| Insurance group/quote/VED | 19/£353/£140 | TBC/£676/£140 | 26/£476/£140 |
| Cost of 1st/2nd/3rd service | £16.50pm (2yrs) | £28 per month | £170/£338/£170 |
|   |   |   |   |
| Length/wheelbase | 4,258/2,620mm | 4,531/2,729mm | 4,313/2,637mm |
| Height/width | 1,429/1,799mm | 1,440/1,796mm | 1,426/1,785mm |
| Engine | 4cyl in-line/1,498cc | 4cyl in-line/1,332cc | 4cyl in-line/1,498cc |
| Peak power/revs  | 148/5,000 bhp/rpm | 161/5,500 bhp/rpm | 148/5,000 bhp/rpm |
| Peak torque/revs  | 250/1,500 Nm/rpm | 250/1,620 Nm/rpm | 250/1,500 Nm/rpm |
| Transmission  | 7-speed DSG/fwd | 7-speed DCT/fwd | 7-speed DSG/fwd |
| Fuel tank capacity/spare wheel | 50 litres/space saver | 43 litres/repair kit | 50 litres/space saver |
| Boot capacity (seats up/down) | 380/1,270 litres | 370/1,210 litres | 380/1,220 litres |
| Kerbweight/payload/towing weight | 1,317/568/1,500kg | 1,375/510/1,600kg | 1,240/560/1,700kg |
| Turning circle | 10.9 metres | 11.0 metres | 10.9 metres |
| Basic warranty (miles)/recovery | 3yrs (60,000)/3yrs | 3yrs (60,000)/3yrs | 3yrs (60,000)/3yrs |
| Driver Power manufacturer/dealer pos. | 5th/20th* | 20th/12th* | 18th/15th* |
| NCAP: Adult/child/ped./assist/stars | 94/89/65/71/5 (2012) | N/A | 95/87/74/86/5 (2012) |
|   |   |   |   |
| 0-60/30-70mph | 7.8/6.8 secs | 7.4/6.8 secs | 7.8/6.6 secs |
| 30-50mph in 3rd/4th | 3.2/4.2 secs | 3.1/4.4 secs | 3.2/4.1 secs |
| 50-70mph in 5th/6th/7th | 6.4/8.5/11.0 secs | 5.9/8.0/10.5 secs | 6.3/8.0/10.4 secs |
| Top speed/rpm at 70mph  | 134mph/2,000rpm | 139mph/2,000rpm | 136mph/2,000rpm |
| Braking 70-0/60-0/30-0mph  | 48.3/38.0/11.5m | 49.0/37.7/11.1m | 42.9/33.0/9.8m |
| Noise outside/idle/30/70mph | 70/44/63/72dB | 71/43/62/71dB | 70/44/63/72dB |
| Auto Express econ. (mpg/mpl)/range | 38.6/8.5/425 miles | 41.2/9.1/390 miles | 39.0/8.6/429 miles |
| Govt urban/extra-urban/combined  | 45.6/65.7/56.5mpg | 41.5/62.8/53.3mpg | 45.6/65.7/56.5mpg |
| Govt urban/extra-urban/combined  | 10.0/14.5/12.4mpl | 9.1/13.8/11.7mpl | 10.0/14.5/12.4mpl |
| Actual/claimed CO2/tax bracket | 169/114g/km/23% | 158/123g/km/25% | 167/114g/km/23% |
|   |   |   |   |
| Airbags/Isofix/park sensors/camera | Seven/yes/yes/£265 | Nine/y/£1,395*/y | Six/yes/yes/£375 |
| Auto box/lane keep/blindspot/AEB | Yes/£550*/£550*/yes | Yes/yes/no/yes | Y/£1,550*/£500/£475 |
| Climate ctrl/cruise/leather/heat seats | £425/adpt/£1,900/£400 | Yes/y/Artico/£1,395* | Yes/yes/£1,220/£300 |
| Met paint/LEDs/keyless go/pwr tailgate | £575/£995/£375/no | £595/y/£2,395*/no | £550/yes/£400/no |
| Nav/digi dash/DAB/connected services | Yes/£495/yes/yes | Yes/yes/yes/yes | Yes/£1,395*/yes/yes |
| Wireless charge/CarPlay/Android Auto | No/yes/yes | £495*/£495*/£495* | £1,395*/yes/yes |