Mercedes CLS 350 BlueTEC review
Mercedes CLS 350 BlueTEC diesel is our pick of the CLS range
The Mercedes CLS 350 BlueTEC is a truly tempting package. For that, you're bagging a handsome saloon that's entertaining to drive. Its biggest problem? There's a more striking, more practical Shooting Brake version, too.
This mid-range Mercedes CLS 350 BlueTEC is the sweet spot of Mercedes' facelifted four-door coupe line-up for more than simply the cultured burble of its 3.0-litre twin-turbo diesel V6.
It's always been an engine right at home in the CLS, but for 2014 its healthy outputs of 258bhp and 620Nm of torque work in tandem with a new 9G-Tronic nine-speed gearbox. It's only available in the 350, as other CLS models stick with seven-speeders. Other mid-cycle upgrades see new bumpers, LED lights and an improved infotainment system introduced.
Adding two more ratios (and much smoother shifts) doesn't dramatically improve acceleration: it feels faster, but the numbers say 0-62mph remains the same at 6.5 seconds.
The revised CLS 350 is 6mpg more efficient and 18g/km cleaner, though. Flip the alloy paddles at the back of the new steering wheel (identical to that of the upcoming AMG GT coupe) and the CLS is game for a laugh, with rapid gearchanges and crisp throttle response.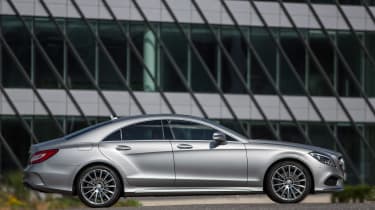 Weighing 1,935kg and with a throbbing V6 in the nose, it loses a hint of sharpness in corners compared to the cheaper four-cylinder CLS 220, but that's a small penalty given how accomplished the rest of this package is.
The 'AMG-line' range gets internet, heated stears and ambient lighting as standard – saving £5695 in options over previous CLS. Premium and Premium Plus packs add extras like a sunroof, keyless go, reversing camera and Harmon Kardon hi-fi.