Mercedes E300 Hybrid vs BMW 520d ED
Has Mercedes made the first fully convincing diesel hybrid with the E-Class? We test it against the BMW 5 Series to find out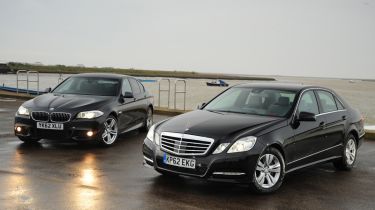 Diesel hybrids are still in their infancy, and the previous two we tried failed to deliver on their promise of stunning fuel efficiency and strong performance. Both were from Peugeot, and both were let down by jerky automatic gearboxes, a poor ride and disappointing economy. But surely a company with the engineering might of Mercedes can finally make this combination of powerful diesel and small battery work?
The new E300 Hybrid is aimed squarely at company buyers, and the addition of a lithium-ion battery and electric motor to the drivetrain has turned the E-Class into the cleanest big executive saloon on the market. The boot and spacious interior are both unaffected because the battery is stored beneath the rear seats, and it comes generously equipped to help compensate for a price tag that runs dangerously close to £40,000.
Standing in its way is our current class champ: the BMW 520d EfficientDynamics. The 5 Series is less efficient than the E300 on paper, but it's cheaper so still competitive in terms of efficiency and, crucially, company car tax bills. After crunching the numbers and racking up the miles, which eco-friendly exec will secure the win?
Verdict
Mercedes has succeeded where others have failed by producing a hybrid model that is not only relevant to the UK market, but also works effectively.
Previous petrol hybrids from BMW and Audi have delivered high performance, but poor fuel returns. Yet the E300 easily outmuscled its conventional rival at the track and was also far more efficient at the pumps. However, while the drivetrain is an impressive feat of engineering, the rest of the E-Class is showing its age – and the drab interior and anonymous design mean the revised model can't arrive soon enough. If these were our only gripes the E300 would be in with a shout in this encounter, but two main flaws prevent it from securing first place.
Lowering the suspension for better aerodynamics has spoiled the ride comfort – not an acceptable compromise for any big exec. The other problem is cost. While the Merc is cheaper to run as a company or private car, the gap isn't big enough to offset its higher price and steeper depreciation. The BMW is sharper to drive and will offer better value for most buyers, so it remains our efficiency champ by a narrow margin. The classy and spacious interior and bigger boot help it seal victory despite its lack of pace at the track. However, BMW should keep looking over its shoulder, because hybrids are improving all the time.